How to Set Up an Uploadcare account
Although the signup process is standard and straightforward, this article answers some questions you might have before setting up an account.
Setting up an Uploadcare account
Go to our home page Uploadcare.com and click Get started to create a new account.

Use email and password, or log in with another service:

Click on a verification link in your inbox, so that we know that it's you.
Check out your personal Dashboard.
The dashboard shows your current plan, stats and limits. Also, there's a list of projects, and their API keys. You can create multiple projects for various purposes with dedicated storage and settings.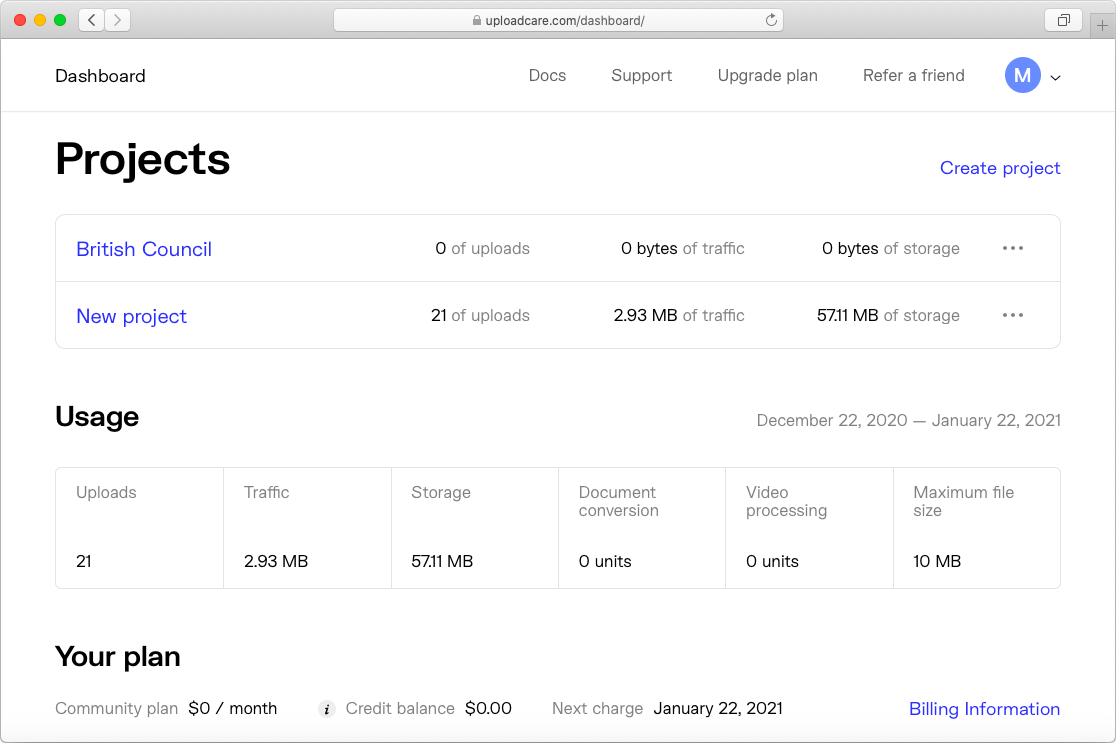 What plan to choose
There are two types of plans: Free and Paid.
The Free Uploadcare plan works for images only and it has limited functionality. However, it's okay for personal purposes and we encourage you to create one for yourself.
The Paid plans provide full functionality, allow you to upload files of any format and size. Of course, there are more traffic and storage for your content, as well as specific business features like HIPAA, and others on a Volume (Custom) plan.
You can test out any of the Paid plans with a fully-functional 14-day trial.
Q: Why do we ask for a credit card to start your trial?
We ask your credit card to check if it works, and to prevent issues with subsequent payments. Another reason is security concern. We need to identify you to allow you upload files of all types according to some regulations.
Don't worry, you won't be charged until your free trial is over. Cancel trial and delete your payment information anytime.