Squarespace integration
We get many questions about integrating Uploadcare with site-building applications. This tutorial will help you integrate Uploadcare with Squarespace. By the end of this tutorial, your existing Squarespace site will be ready for user uploads. Before we begin, let us introduce Uploadcare Widget, our ultimate tool for uploads. If you are using our widget within a third-party form, check out their help pages for a similar integration tutorial.
Before we start
If you aren't registered with Uploadcare yet, please check out this article to get up and running with Uploadcare in minutes. In short, you need to sign up, verify your email, create an Uploadcare project, and check out its private and secret keys.
Now, let's head over to Squarespace.
Step 1. Building blocks
Switch to your Squarespace editor. Notice that your page consists of blocks. Uploadcare Widget is added to a page as a code block. Click 'plus sign' to see the menu.

Step 2. Everything has its place
Now, scroll down to the 'MORE' section of the menu and choose the 'Code block' element.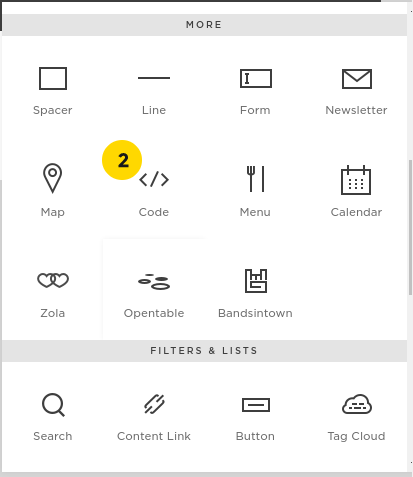 See the Pen Uploadcare Widget & Simple Form by uploadcare (@uploadcare).
Step 3. Results and preview
Copy the code from provided codepen and paste it inside the block you've just added. Click APPLY.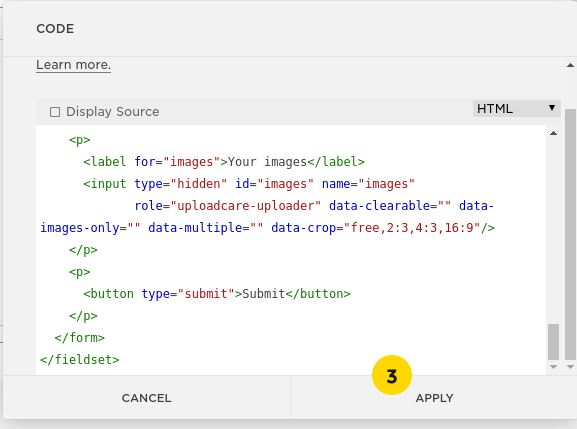 Voilà! You have now integrated your Squarespace site with Uploadcare. The upload button can be further customized to your taste using our visual tweaks!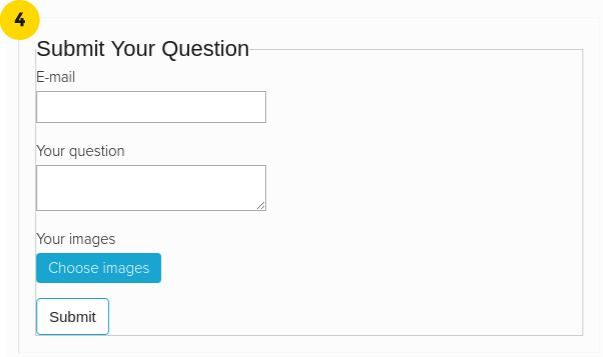 Got any questions left? Contact our support.