Implementing Responsive Images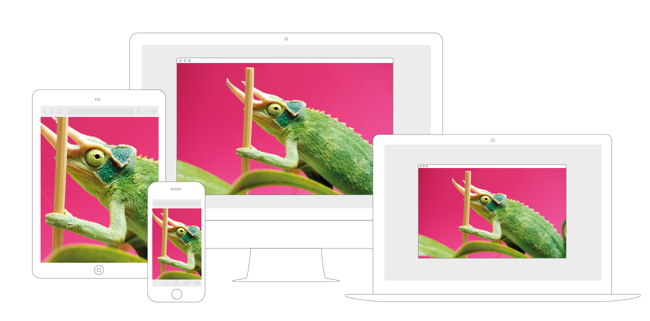 When developing a website, implementing responsive designs means handling responsive images, the ones that can adapt to user devices and browsers.
Uploadcare's image processing helps you prepare a virtually infinite number of image versions to use with Responsive Images. This article describes the possible image processing approaches tailored to specific screens with HTML and CSS.
Responsive Images via CSS
background-image
Responsive images may not be a part of HTML content. It can be just a decoration or background for content. In the latter case, developers use the background-image property in CSS.
We can set different versions of an image with breakpoints using CSS media queries.
We set versions for HiDPI screens with the image-set() CSS function. By using this function, we can insert multiple images that will be set for normal and HiDPI screens.
background-image: image-set(
    url("

https://ucarecdn.com/:uuid/-/scale_crop/450x800/center/1.jpg

") 1x,
    url("

https://ucarecdn.com/:uuid/-/scale_crop/900x1600/center/-/quality/lightest/2.jpg

") 2x
);
background-image , Sass version
We wrote a Sass function for getting a URL of an image that was uploaded to Uploadcare:
Conclusion
Modern HTML and CSS standards offer ready-made solutions in order to tell a browser which image to load for the current screen. We can tell the browser to load a large version of an image for large screens and a smaller version of the same image for smartphones to save internet traffic by using srcset and <picture>.
You must prepare a few versions of an image. This can be difficult and time-consuming, but Uploadcare Image CDN will help. You can just upload an image file and use CDN operators for on-the-fly image processing.
There is one other problem: a lot of code. In our example, for <picture>, we have nine versions of an image and 4 <source> elements. 17 lines of code (without comments) to load one image! In a real-life project, you can have even more code.