How to hack online sales by improving your website performance
Written by Yulia Nazarenko. Updated on . First published on July 9, 2020, in Other
Going digital sometimes means staying alive: this has been proved by COVID-19. The global retail industry is facing a tremendous decline, and it may take up to five years for offline revenues to get back to pre-pandemic levels on the US market.
Ecommerce is alleviating the impact: online sales will grow by 18.0%, representing 14.5% of total US retail sales in 2020. How can you be there for your customers and rapidly grow online? Let's dive in!
This is a no-brainer for eсommerce. But if you have a brick-and-mortar store or a mix of online and offline businesses, here are two main reasons to level up your digital presence:
More people start to purchase online not only due to the lockdown, but also because mobile technology and the internet are spreading.
Consumer profiles and behaviors are changing, and tech-savvy millennials are taking the stage.
These trends were foreseen by many retail giants. For instance, Walmart launched its online store in 2000, and a site-to-store service in 2007, offering its customers a seamless online and offline experience. Now that people have frozen their non-essential goods spendings and are going online for groceries and personal care products, Walmart is expected to outperform eBay and become the number two ecommerce retailer in the US.
So, if you don't have an online store, you'd better build one. And if you have one, you should assess all the possible ways to improve its performance. Here are some strategies and tactics to follow.
To get more revenue, any online business can either get more traffic, or upsell current customers. Thanks, cap! Both ways are costly and don't guarantee constant returns:
User acquisition involves endless marketing experiments and leveraging acquisition costs.
Upselling is about bringing extra value to your customers, which may not pay off in the future.
That's why middle-of-the-funnel strategies are becoming more popular: instead of squeezing marketing budgets, companies are starting to think about how to convert traffic better at all stages.
Here's an overview of possible top-, middle-, and bottom-of-the-funnel strategies: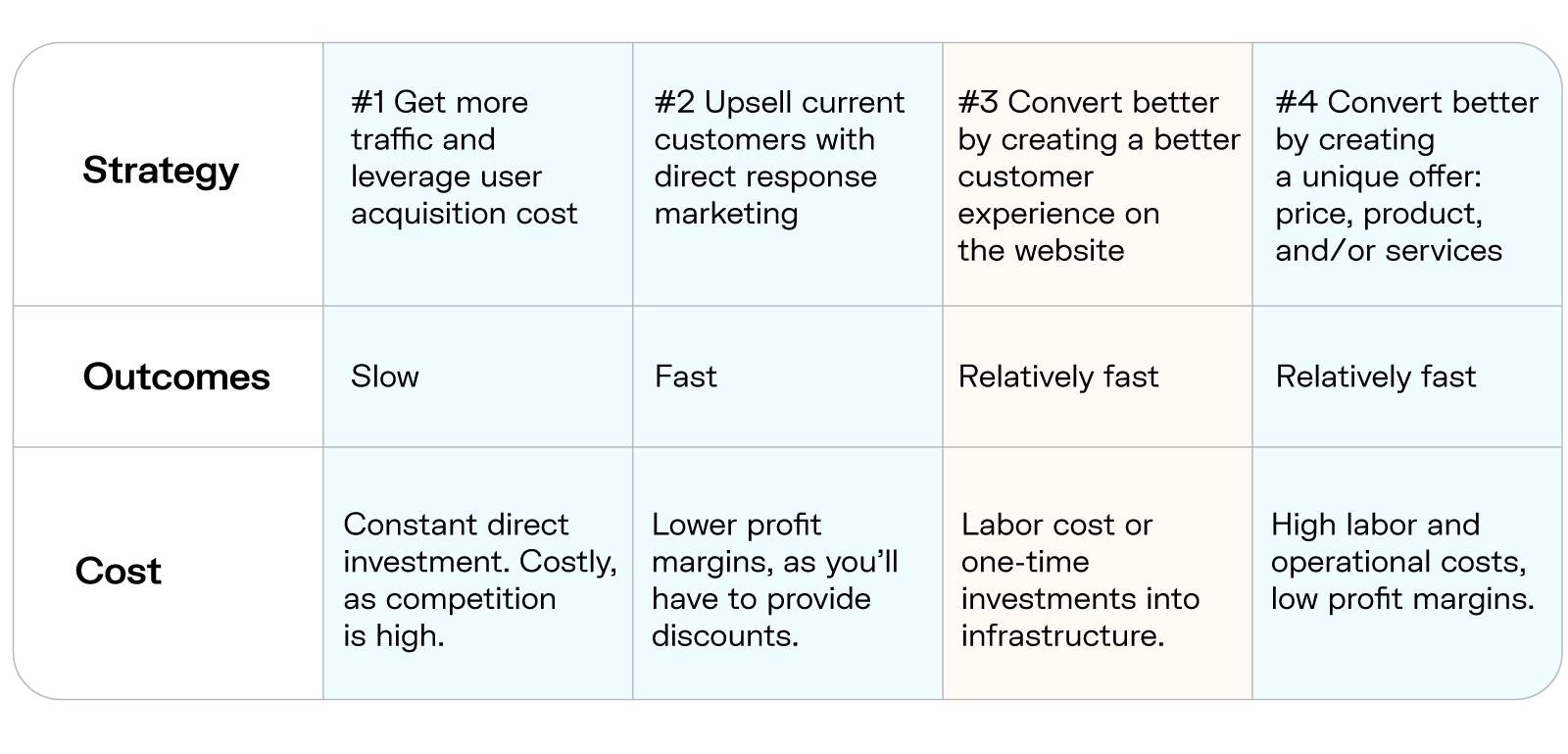 Four strategies for growing online sales
Compared to the rest, the #3 strategy is the most promising. If done right, it can bring results right away and keep bringing them constantly, improving product metrics like churn, LTV, number of transactions, successful transaction ratio, and abandoned cart rate.
So, what does "convert better by creating a better customer experience" actually mean? It means thinking about every touchpoint and every step your customer makes, from typing in your URL or clicking on a link, to payment. If we go hands-on, this means:
Taking care of UX/UI;
Creating clear and compelling copy and visual content;
Looking after overall web performance.
If you focus on UX/UI, consider implementing grow hack experiments powered by research and A/B testing. For some companies, this approach is crucial. For instance, Booking.com believes that keeping customers happy is one of the best strategies that can have a significant impact on business.
They constantly improve user experience by conducting online surveys, street-level user testing, usability tests, user research, and diary studies. The team believes that one happy customer can bring you traffic at no cost at all, just by word of mouth. And this is a way more powerful user acquisition strategy than any advertisement.
Great copy or visual content can also be the key to success. A great example is Airbnb, and the breakthrough they made by introducing professional photography to apartment listings on their website.
But all of this will be in vain if your overall website performance is the lowest of the low. A potential customer will not be able to enjoy your spectacular website design or photography if your pages load at a snail's pace. Good news: you can improve that relatively fast and enhance your metrics forever. Let's see how.
This is a series of technical measures that ensure that your website works fast and without errors, contributing not only to good user experience and conversions, but also good SEO rankings.
If you have an ecommerce business, the logic is the following: the faster the pages load → the more pages a person will visit per session → the higher the possibility of purchase. And this leads us to two main outcomes:
users convert better and you grow your online sales;
your website is ranked higher by search engines, and you get more organic traffic from SERP, which also converts into sales.
For instance, after diving deep into its web performance, Pinterest came up with a UPWT, or user-perceived wait time custom metric. This metric shows the time span between two events:
the user typing in a URL or clicking on it;
the visible part of a page being rendered.
UPWT on Pinterest was mainly influenced by image loading events, so the team decided to rebuild their web pages, thereby optimizing the content. As a result, they got a 40% decrease in wait time, which led to a 15% increase in SEO traffic and a 15% increase in conversions (users signing up).
The team claims that back in 2016, it was tons of work, but also the best user acquisition win. Eventually, they started to focus on performance as one of the biggest business opportunities.
Now that there are so many ready-to-integrate content optimization solutions, this strategy looks like the low-hanging fruit. Ready to try? Let's look at some details and tactics to start with.
Web performance can be crucial at any stage of your customer's journey, and at every possible touchpoint. And there's no magic involved: it simply makes your website... faster!
To start with, look at these basic product and business metrics it can influence:
| | | |
| --- | --- | --- |
| Product metrics | How web optimization can help | Business metrics |
| 1. Search engine ranking | It can improve your SERP position and bring more organic traffic from Google. | Customer acquisition cost (CAC) |
| 2. Total number of visits | It can reduce the bounce rate , which is the number of people who visit only one page of your website or leave right away due to slow page loads. The fewer bounces you have, the more site visits convert into shopping sessions. | Shopping sessions, sales and marketing leads, CAC |
| 3. Pages per shopping session | It can increase the number of page views per session. A customer will be able to see more items and add them to the cart. | Purchase intent, average basket value, average units per basket |
| 4. Active customers | It can improve the experience of users with a poor internet connection or on mobile devices, so you can reengage or activate your current client base. | Customer lifetime value (LTV), churn rate |
| 5. Conversion rates | It can increase the percentage of visitors who take the desired action: purchase, register, or upload data. If your site loads at least one second faster, you'll see a better conversion rate. | Time to purchase |
| 6. CDN traffic volume | It can optimize images up to 86% at minimal to zero loss in quality, decreasing the CDN traffic to 92%. | Technology costs |
All this leads to higher revenues and even profits, considering that you'll also cut some acquisition and infrastructure costs.
Now that you have some solid metrics to build on, you can take the first two steps forward.
Audit your site performance, for instance by using a free page speed analyzer like PageDetox. PageDetox provides a customer experience (CX) score for desktop and mobile, which is comprised of metrics that can be improved instantly.
This is an example of an instant report for etsy.com: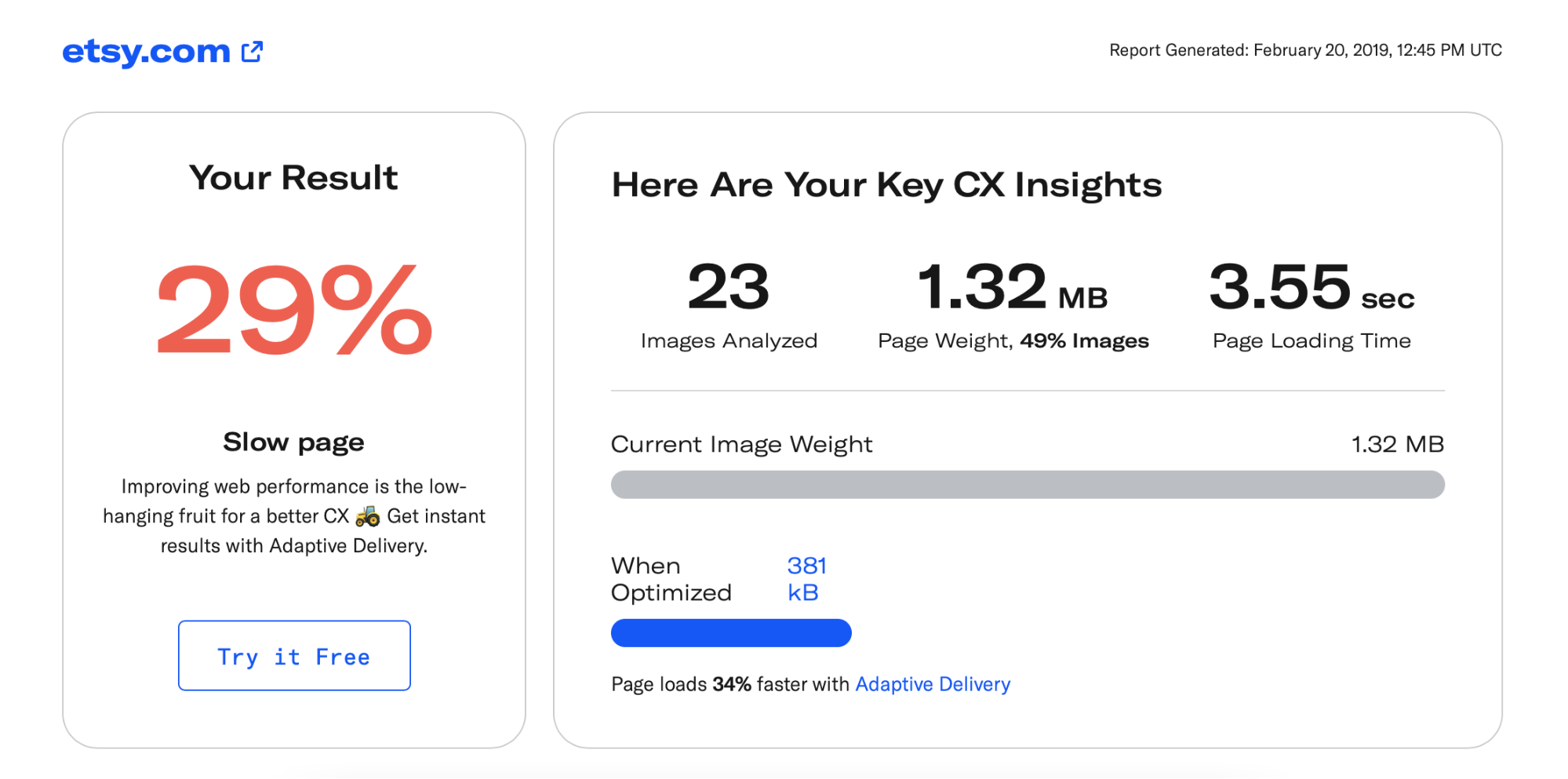 Customer experience insights for etsy.com
As you can see, this website is quite slow. The page loading time recommended by Google is less than 3 seconds, and here we have 3.55. Key insight: images can be optimized from 1.32 MB to 381 KB, making the page load up to 34% faster.
In the second part of the report, we can see the impact slow page load times have on product metrics: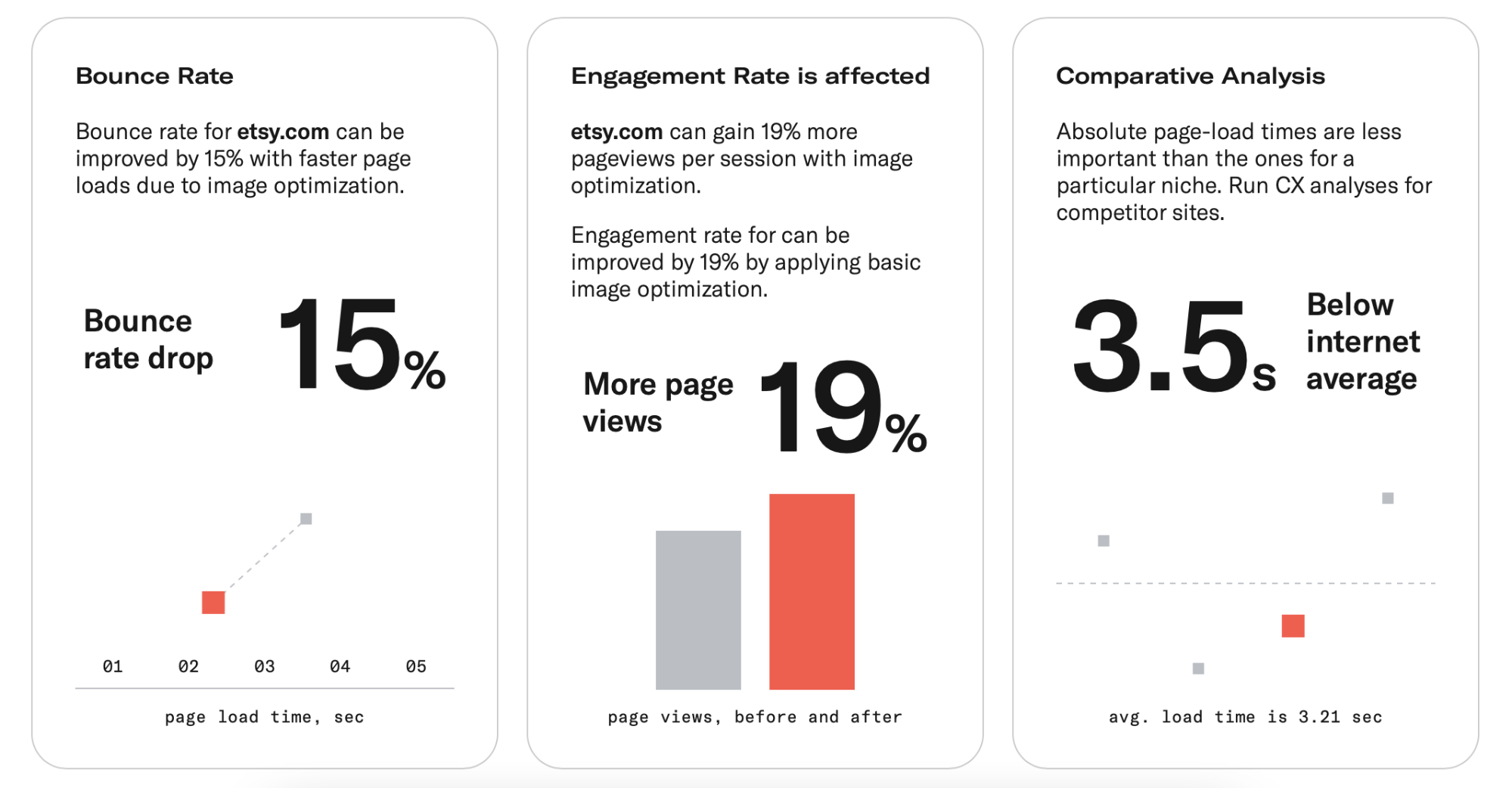 What can be improved with better image optimization
By optimizing images, etsy.com could improve its bounce and engagement rates, and grow business metrics like the number of subscriptions and purchases made. Just imagine the possible impact it could have for a heavily loaded ecommerce store!
Etsy is not the only service which has potential business opportunities lurking in the field of web optimization. According to McKinsey, image optimization accounts for almost 50% of web performance issues for any site. And the more images and other visual content you have, the slower your website is.
There are three possible ways to optimize:
Manual, which sometimes leads to endless image tweaking;
Programmed using JavaScript, which can also increase a page's data footprint;
Integrated, using ready-to-use solutions with a Content Delivery Network (CDN) and Adaptive Image Delivery.
When choosing how to optimize, consider not only direct investments, but also the effort your team would input into manual image optimization and code maintenance. Doing it yourself, you lose focus and spend precious time on infrastructure instead of creating value.
Integrated solutions can become building blocks to handle the specific tasks they were made for. For instance, Uploadcare Customer Experience Suite provides an end-to-end cloud platform that covers your complete media pipeline. On top of that, it's a full-featured, fast, secure, and reliable service to rapidly improve the customer experience through web performance optimization.
Growing online sales is not just a trend, it is about being there for your customer. If you decide to boost your digital presence, there are several strategies to follow:
Conversion optimization is one such strategy: it ensures the best customer experience on your website, multiplying the effect of all your marketing activities and stimulating word of mouth.
One of the most promising tactics to use in conversion optimization is taking care of your web performance. By making your website lighter and faster, you can improve a number of product and business metrics in one go.
Start improving your web performance with media content optimization and use integrated solutions, so you don't get slowed down by doing it yourself.