Three absolute must-haves to improve retail customer experience in 2021
Written by Yulia Nazarenko. Updated on . First published on June 16, 2021, in Other
Due to the pandemic, people are hesitant to get back to stores and are more conscious of where, what, and how they consume. Hence, if there were only three words to describe an outstanding retail customer experience in 2021, they would be: omnichannel, personalized, and efficient.
These three ingredients, shaken and not stirred, are the key to success. In this article, we'll show how to get them right and improve customer experience in your online or brick-and-mortar store.
The number one customer experience trend, according to our recent trends review, is adopting an omnichannel strategy. Though it sounds complex, going omnichannel actually means allowing your consumers to shop wherever they feel like. For example, let them start browsing via a mobile app while stuck in a traffic jam, resume on PC when they get home, and finally purchase in-store, all within a single smooth session.
It's impossible to think of retail as separate. You have to be able to bring the physical into the digital, and the digital into the physical. From an experience perspective, but also in terms of systems. Connecting the two is important...this idea of unified retail is the future.

— Julliana Di Simone, tokyobike
In contrast with multichannel strategies that create standalone experiences on most popular platforms, omnichannel strategies focus on crafting smooth and seamless journeys across the touchpoints that your consumers are likely to hit. So the goal is not to be omnipresent, but to know where your audiences are and be there.
To go omnichannel, you'll need to take these five steps: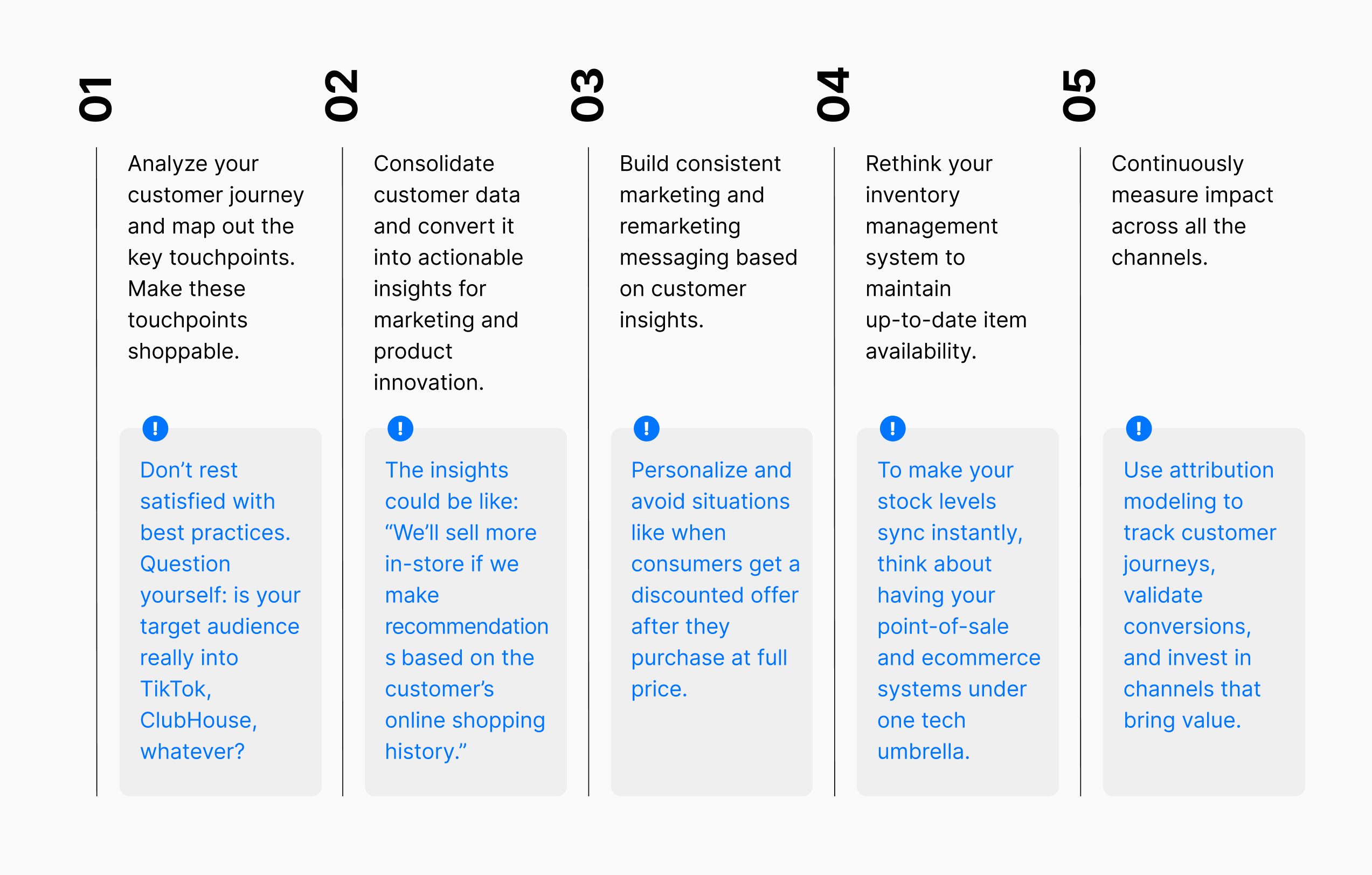 The best omnichannel experiences are built around customer insights which, in turn, are born out of data.
🌟Case study: Allbirds is a digital-first fashion and apparel brand that adopted an omnichannel retail strategy by opening several pop-up and brick-and-mortar stores with limited retail space.
To avoid losing in-person shoppers that could leave because of out-of-stock items or sizes, they enabled the "buy in-store, ship to customer" option: you can pay for the missing item in-store and get it delivered to your door from the warehouse.
As a result, the brand increased conversion rates: people make a transaction right on the store floor, not having to postpone the purchase or make it online.
Personalization goes hand in hand with omnichannel strategies and means recognizing customers, their preferences, and shopping patterns, whatever touchpoints they hit. Easier said than done: a survey showed that while brands might believe that they're killing it with tailored experiences, consumers' personalization expectations are not met(link).
To understand what customers perceive as a personalized approach and how important it is to implement one, see the stats below: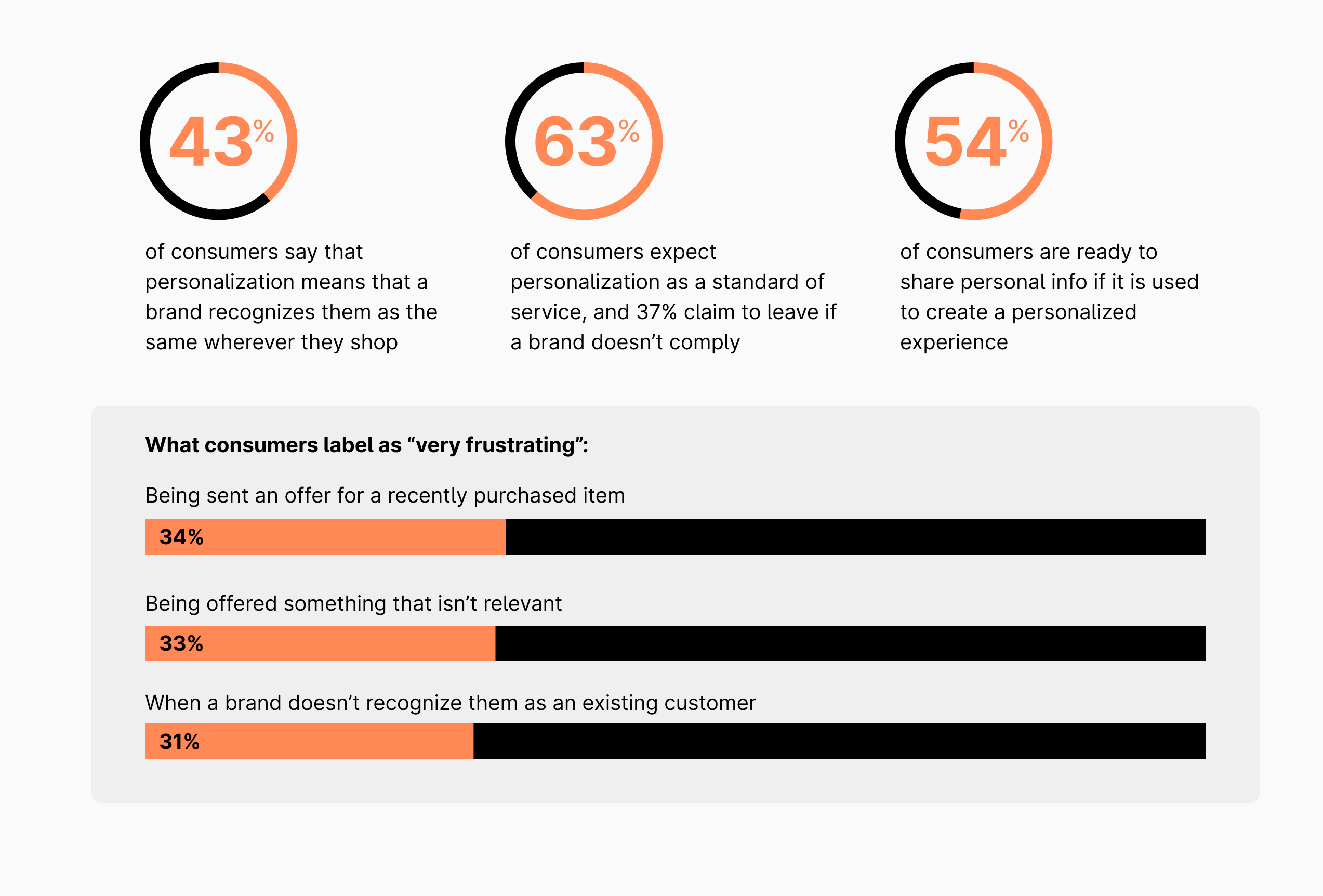 Stats on personalized retail experience from Redpoint show that customer recognition is at the core of personalized service.
As you see, acknowledgment and recognition are crucial, and most customers are ready to vote for them with their data. Just collect that data, pull out some actionable insights, and integrate them into service standards, platform features, marketing, and team training.
Providing a personalized customer experience is easy in ecommerce, because there's a lot of trackable data about how people shop and extensive demographic info provided upon registration or checkout. The challenge is to choose which information to collect and how to use it conscientiously.
To go in the right direction, you might set up two main personalization goals:
Acknowledge and recognize your customers, their preferences, and shopping patterns.
Help your customers through the jungle of items, as an average shopping session in ecommerce is not that long and you have to benefit from every minute a person spends on your website to offer items that they will most probably like.
Here are some tactics and data types that you can use to achieve these goals. We've listed examples for a fashion and apparel store, but you can easily adapt them to your niche:
Goal
Recognition
Navigation and recommendations
Data type

Demographics, including size
Browsing and shopping history

Browsing and shopping history
Items shopped by look-alike customers
Groups of matching items
References based on style

Tactics

Personalized offers in line with shopping history

Emails or push notifications with items on sale that a customer recently browsed




Blog posts or in-app tips on how to choose or use a product a client is interested in

Birthday discounts and special offers
Offers from local brands and businesses based on location
Unintrusive recognition by name in the account menu and marketing communications

"You might like…", "Others also purchased…" and "Buy the look" tips on the website
"Shop like Taylor Swift" recommendations based on celeb style reviews
"Choose your favorite looks" onboarding flow, like Spotify does with music styles
Grouping and prioritizing search results according to previous shopping sessions
Using chatbots to specify preferences and help through the process
ASOS is one of the brands that use personalization to its fullest, and the commercial success of the brand proves that it pays off.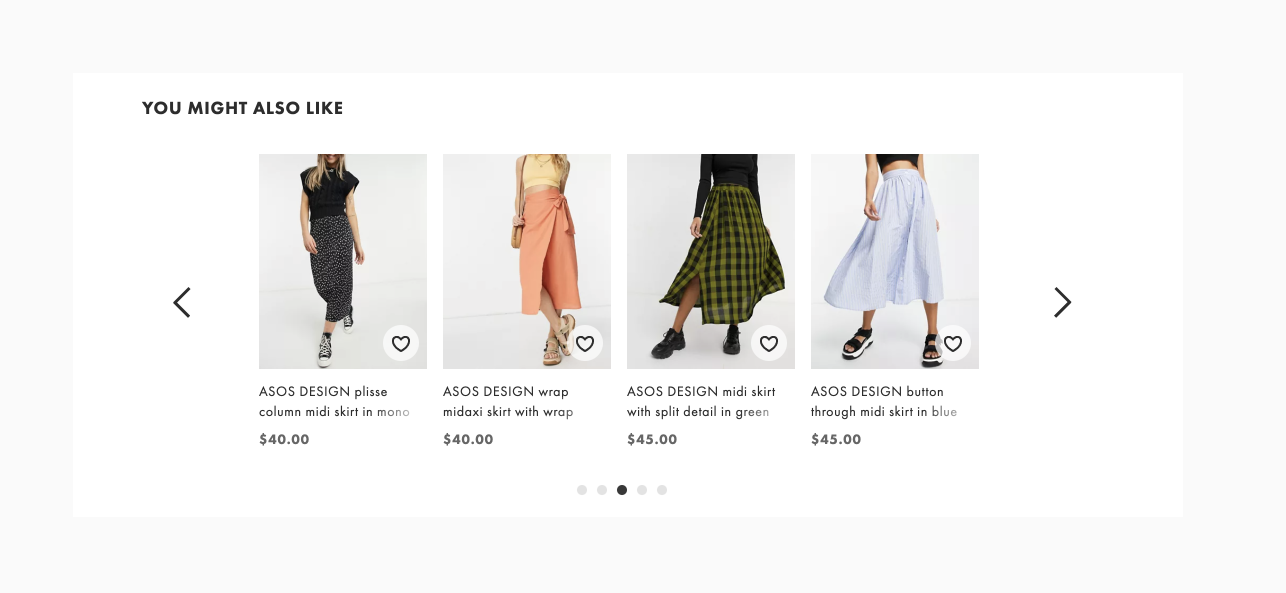 "You might also like" recommendations by ASOS are based on the current search and previous shopping sessions.
Providing a personalized customer experience is a bit more complicated for brick-and-mortar stores, especially if we're talking about high footfall locations. First, there are no data collection points. Second, creating them may be or seem to be intrusive.
Here are some more or less inventive tactics to consider:
Train your team to ask relevant questions that help understand customer preferences (read the case study below).
Empower your team with data to make informed product recommendations, for example, analyze which items are usually purchased within the same transaction.
Augment human assistance with technology to help choose the best product, for example, introduce tools to try on items and cosmetics.
Provide private fitting sessions or store appointments.
Consider using smart displays and smart fitting rooms that allow you to browse alternative items, call an assistant, or request a different size.
Launch loyalty programs to offer tailored discounts via mobile apps or SMS.
Adopt omnichannel tech solutions with a unique source of truth that aggregates customer data from different channels (there is at least one that we know).
Use signage and collateral to appeal to your target audience's values and needs.
Consider personalizing packaging and free samples.
Launch shopper events and workshops where you meet your shoppers and shoppers meet each other, creating a local community.
Create in-store feedback opportunities.
🌟Case study: The direct-to-consumer digital-first lingerie brand Lively launched its brick-and-mortar stores in 2018. Apart from going omnichannel and enriching the customer's journey with an in-person experience, the goal was to attract walk-ins and reduce customer acquisition costs.
Personalized customer experience is in the DNA of Lively's brand; that's why they introduced the concept of an individual in-person fitting session ("fit sesh"). You can choose a suitable time and book one on their website. Once in-store, you will be greeted by a personal stylist.
"Inspired by women with wild hearts and boss brains," the brand produces intimates for women who want to feel confident whatever they do, so the store team is trained to ask questions about their visitor's lifestyle, activity levels, and style preferences. The dialogue between a shop assistant and a customer sounds more like girl talk, making the interaction comfy and intimate.
As a result, 50% of customers discover their brand thanks to the brick-and-mortar stores, and the average checkout among customers who booked a fit sesh is 60-80% higher.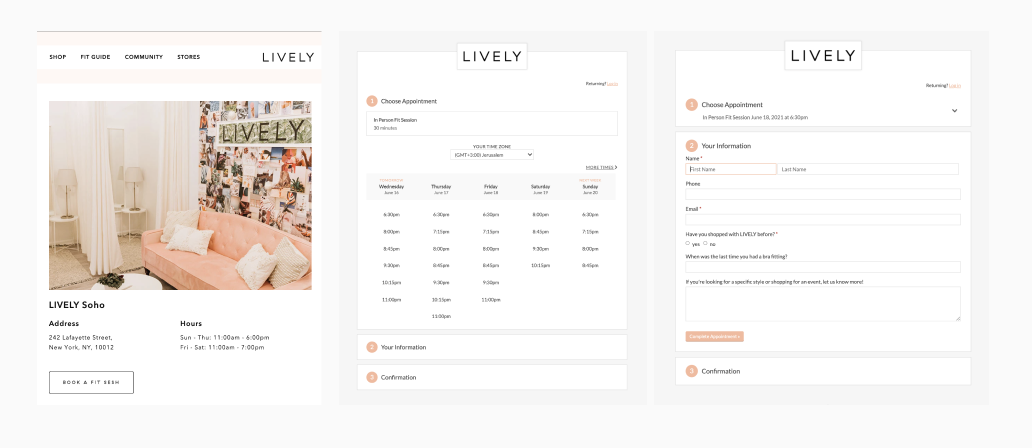 A screenshot from the Lively website showing appointment booking options
The Lively website offers to book a fit session in each of the brand's offline stores. The booking form also collects personal data for further communications.
When it comes to communication there are many tech advancements including UCaaS (Unified Communications as a Service) platforms. Their purpose is to integrate the entire communication, applications, and services into one cohesive platform sitting in the cloud so you can spend less time on your communications services while improving productivity.
Nothing really changes: speed and convenience are still top customer demands. Shoppers expect instant gratification and get easily frustrated if a transaction takes too long. For better or worse, they have a wide variety of brands and shops to choose from, so even minor gaps in efficiency may cost you revenues.
Speed can mean a lot of things for both online and offline customer experience, but when it comes to ecommerce, the priority is to fix the checkout process. Here's why:
A "too long or complicated" checkout process is among the top five reasons people abandon their carts, as per Baymard Institute UX research.
According to Forter, 50% of US online shoppers are less likely to make a purchase if checkout takes more than 30 seconds.
If your checkout sucks, you lose your customers right at the finish line. Ouch.
So, what can be done to meet the 30-second threshold? You will need to eliminate actual and perceived friction, and make pages load faster. Here are the tips:
Tips to accelerate checkout
Tips to accelerate your platform

Eliminate registration or sign up before transaction

Reduce the number of checkout form fields, for example, by allowing a "Billing address = Shipping address" option.

Reduce the perceived form size by hiding fields in accordion-style layouts.
Use autofill and suggest options.
Increase checkout page load speed by optimizing images and getting rid of unnecessary scripts.
Make sure that transaction confirmations and security codes don't take too long to arrive.
Allow one-click checkout.
Allow Apple or Google Pay.

Avoid situations when users have to re-submit information they already provided.




Localize your website for all the target markets to eliminate the language barrier.

Run performance audits to make sure your website runs fine in terms of speed, interactivity, and stability.

Start with mobile efficiency, as mobile connections are more vulnerable.
Deliver content in line with each individual shopper's context: device, browser, network, etc.
Optimize images: implement next-gen formats, compress your assets properly.
Use techniques like lazy loading to influence the perception of page load speed.

Consider automating content optimization with an out-of-the-box file handling system
Once your website is fast enough and your customers breeze through the checkout, consider improving other efficiency aspects like speed of delivery and returns. But the best practice is to make checkout and overall page load speed a constant KPI: with technology advancements, there is always space for fine-tuning and innovation.
🌟 Case study: Shogun is a drag-and-drop online store builder, serving more than 96 terabytes of optimized image content per month.
To enable their customers (ecommerce platform developers and owners) to provide the best customer experience for their shoppers, they needed a reliable content uploading, optimization and delivery system. To build one from scratch didn't seem like a big deal, but the team decided to focus on their core functionality and offload file handling to a reliable provider.
After automating media delivery with Uploadcare, Shogun achieved a perfect balance between image size and quality, reduced total image size by 80%, and accelerated page load times by 1.5X.
Checkout is as important for brick-and-mortar stores as for ecommerce, but with a slight difference: people are not as likely to leave the cart, even when the checkout takes longer than they expected. They already invested their time and effort while trying things on or picking up groceries, so a person would really need to be in a huge hurry to leave their items behind.
The shopping experience would be unparalleled if there were no checkout lines. That's why you should focus on leveraging customer flows, providing various payment and checkout options, and training your staff to be efficient. Here are some more detailed tips for you to experiment with:
Enable tap-and-pay options with mobile and contactless pay features.
Introduce BOPIS (buy online pick up in-store) service so that the only thing your customers will have to do is grab their goods and go. To make it work, you'll need to accommodate it with a separate register or direct such customers to the exchange and returns line, which is normally much shorter.
Allow other alternative shopping formats like "browse in store, buy online" and "buy in store, ship to customer".
Use wireless terminals to check out your customers right on the store floor.
Consider using a self-checkout app or a dash cart.
Implement digital receipts so your team doesn't have to refill a printer in the middle of rush hour.
Have an up-to-date POS and a good internet connection so that transactions are carried out without hiccups.
And the most important tip is: make speed a part of your brand's DNA and explain its importance to your team. Set the standards. And don't forget to provide extensive training every time you introduce new technology.
Improving customer experience is a top strategy to keep a retail business afloat, and can even crash the market when the competition is tough. Considering the post-COVID trends and new shopper expectations, the best practice is to bank on omnichannel strategies and keep customer interactions highly efficient and personalized.
Case studies show that more and more retailers are moving from online to offline and vice versa, and creating a unified shopper experience based on consolidated customer data. There are already top-notch ecommerce and POS tools that can help you do the same without building the infrastructure from scratch. The future is here, so be open and innovate!