The top 5 trends that shape retail customer experience in 2021
Written by Yulia Nazarenko. Updated on . First published on July 23, 2020, in Other
Omnichannel commerce strategies, retailnment, BOPIS, and shop-for-impact: what do all these terms mean, and how will they shape the retail customer experience in the years to come? Take a look at this extensive review to stay in the know and meet your shoppers' latest expectations.
💡You need to read this article If you're planning to launch a new retail business, or pivot an existing one to outsmart the competition.
Remember the last time you shopped for your favorite brand in your favorite place? There's no doubt that the three P's (product, price and promotion) influence our purchasing decisions, but there's also a kind of magic that pulls you into that very store and turns your pockets inside out over and over again.
Retail professionals call it "customer experience," and invest fortunes in research, branding, and technology to make it as rich and immersive as possible. So, what is customer experience, and what do you need to do to get it right?
💡 Сustomer experience, or CX, describes the way a consumer interacts with and perceives a brand. It consists of specific touchpoints at every stage of the buying cycle, and therefore covers the entire customer journey, from marketing activation to post-purchase services like returns and exchanges. Some examples of such touchpoints include ads, signage, showrooms, storefronts, and product or check-out pages on a website.
In retail, consumers can interact with a brand either online (in social media, apps, ecommerce platforms, or marketplaces) or in-store. The exact split between channels will depend on how digitized a particular retail business is.
According to a recent industry report, retail executives believe enhancing their CX is their most important mission (66%), followed by customer acquisition (39%) and boosting loyalty (32%).
The reason is clear: a great CX translates into money, bringing up to a 16% price premium. In the long run, it also contributes to customer loyalty and lifetime value, and minimizing acquisition costs.
Here are some positive outcomes of a great online and offline customer experience:
💻

Online

🛒

Offline

More successful transactions.

Higher conversion rates.

Higher average basket value (ABV), average units per basket (AUB) and average order frequency (AOF).

Lower shopping cart abandonment rate.

Higher footfall.

Higher average transaction value.

More units per transaction or category.

More sales per square foot.
At first glance, nothing has really changed. People still value speed, seamlessness, and a human touch. But recently, there's been a massive shift to online, and the competition is off the charts, so these expectations have already become the baseline, not something to boast about.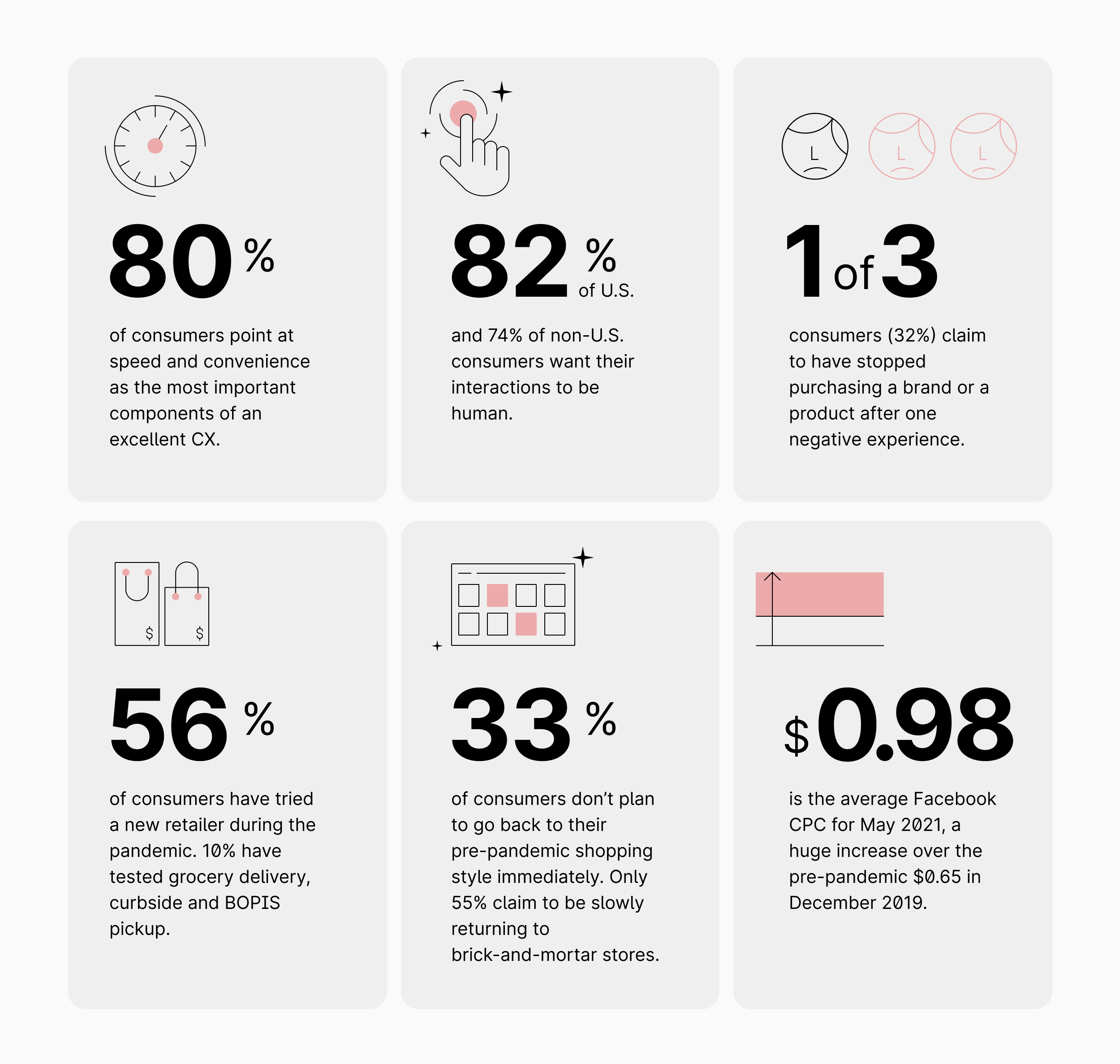 Infographics with customer experience patterns after the pandemic
Customer experience patterns and consumer expectations based on recent data from PWC, Narvar, RevealBot, and Forrester Analytics.
The pandemic has encouraged people to explore new services, change their shopping habits, and try new brands. Facing the new consumer demands, the market has split into two camps: retailers who have managed to innovate and keep up the pace, and those who are lagging behind.
And this is not about adopting disruptive technologies. Actually, the best way for a retail business to ride the pandemic wave is to execute and scale omnichannel commerce strategies and listen to their consumers. That means providing a smart cross-platform infrastructure and quick, personalized service wherever their audiences are.
In 2020, we saw an impressive growth in ecommerce, as many traditional businesses faced the fact that launching and scaling an online channel was a matter of survival. In 2021, sales are continuing to shift online, but retailers are dealing with another challenge: finding a middle ground and balancing between offline and online.
On the one hand, consumers have gotten used to online shopping and are now looking for the same service standards when they hit the brick-and-mortar shops again. On the other hand, they value the human touch more than ever, and the goal is to bring it online.
Online retail challenges
Offline retail challenges

How to add a human touch?

How to recreate all the typical touch-and-smell in-store experiences in such categories as apparel and cosmetics?

How to leverage technology and scale omnichannel strategies?

How to provide the best online CX in terms of website speed and performance for 10, 100, or 100,000 daily visitors?

How to survive reduced footfall when consumers are hesitant to return in-store?
How to provide great CX under COVID restrictions and social distancing?

How to enrich in-store experiences with perks from ecommerce? For example, how to recreate personalization?

How to adopt and scale omnichannel strategies and compete with digital-first companies?
There are also some common issues to take into account:
Merging omnichannel shopping into one unique and personalized experience across the increased amount of touchpoints;
Competing for attention now that lots of new players have started investing in online advertising;
Making a difference and meeting the expectations of Gen-Z consumers.
If you plan to launch a retail business or pivot the one you already have, keep these five major trends in mind. You might not find all of them to be revolutionary insights, but the devil's always in the details, and you might find that you're losing focus on one of these important factors.
Retailers are trying to reshape the customer experience, creating new touchpoints and leveraging the old ones. We've spotted three related strategies that seem fresh and promising.
Omnichannel Strategy: Being where your customers are
According to Shopify data, merchants with an omnichannel strategy recovered 94% of offline purchases lost in the first six weeks of the pandemic with online sales. But online competition is tough, especially if you're trying to outsmart digital-first DTC (direct-to-consumer) brands like Bonobos, Glossier, Away, and Casper.
Contrary to what you might think, the omnichannel strategy doesn't mean being present everywhere, like social networks, marketplaces, brick-and-mortar stores, smart watches, fridge screens, you name it.
What it really means is:
knowing your core audience's shopping patterns and being where they are;
increasing visibility in the places where people discover your products;
tracking customer journeys and creating retargeting sequences;
providing consistent cross-channel branding and messaging;
leveraging existing online and offline touchpoints with technology and personalization.
👉 Check out this cool guide and some omnichannel examples from Shopify
🛒 Offline Strategy: Reimagining store spaces
Experts are talking about redefining brick-and-mortar store spaces and pointing to pop-up formats as the most high-potential ones. Creating short-term modular spaces with a strong concept behind them is a new approach to attract more consumers and save money, since you don't have to commit to long-term contracts and invest in long-lasting installations. The idea of unique content that is intended to vanish at some point contributes to the CX, inspiring exclusivity and fear of missing out.
Stores can even pop up inside other stores, like what happened with Apple: the company launched larger commercial spaces with unique experiences inside Target stores. It's a win-win for both brands and consumers: shoppers can combine two trips in one, and retailers can sell more in fewer square meters.
💻Online Strategy: Going headless to fit any screen and platform
When it comes to online, the challenge is to be present where your consumers are. Considering the emerging Internet of Things (IoT), the list of screens, devices, and platforms can be endless. The trend is to trim this list to your target audience and use technology to deliver content adapted to individual context. Headless CMSs and ecommerce platforms will help you achieve that goal.
Global sustainability and social impact trends influence purchasing decisions, making them more sophisticated. More and more consumers, especially the younger ones, opt for purposeful, sustainable, and greener options.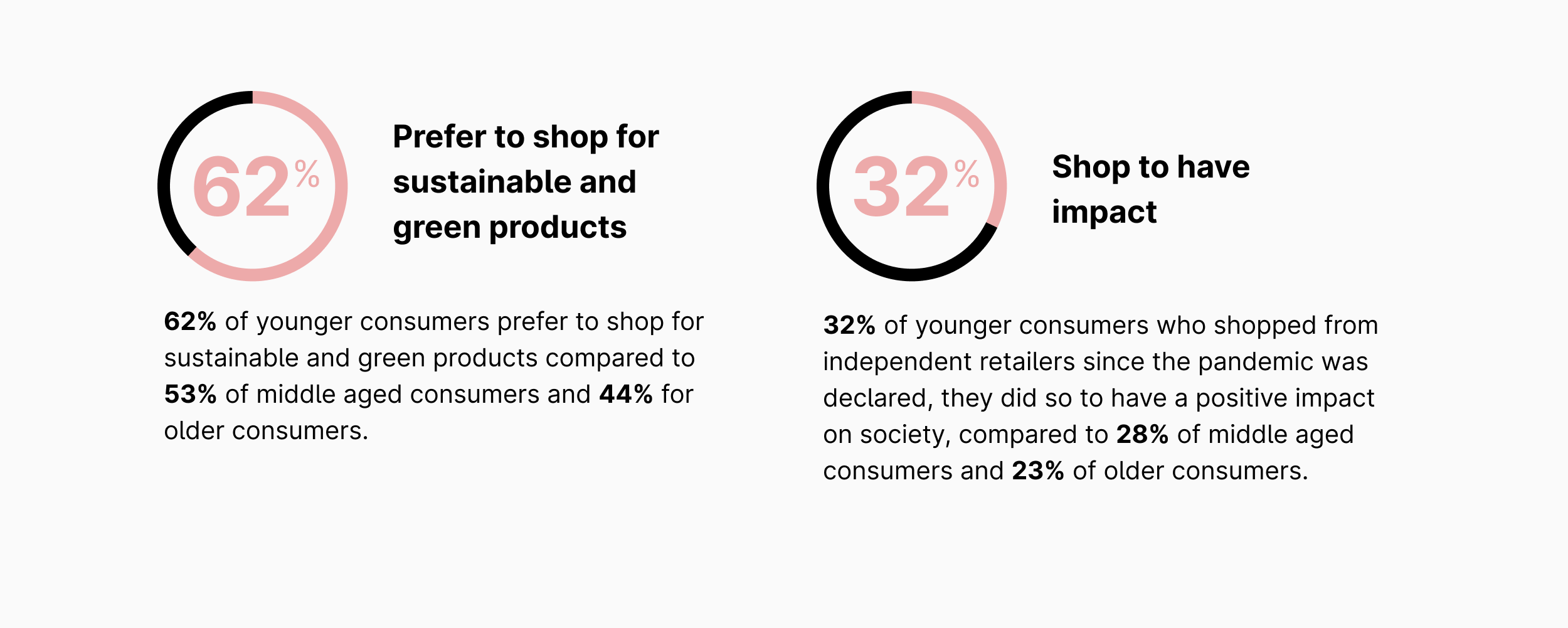 Infographic with trends influence purchasing decisions
According to Shopify, a third of younger consumers in 2021 shop to have an impact, and more than half prefer sustainable and green products.
Another global trend influencing modern retail is inclusiveness in both employee and customer experiences. Retail biggies are already adopting this trend by creating manifestos and making commitments that cover their product and employer-brand strategies.
For instance, Gap Inc. has founded a Color Proud Council and is driving inclusion initiatives to make everyone feel good in their clothes, no matter who they are or what they look like. ASOS is famous for its FWI (fashion with integrity) program, celebrating diversity and sustainability in their product, business, and customer experience.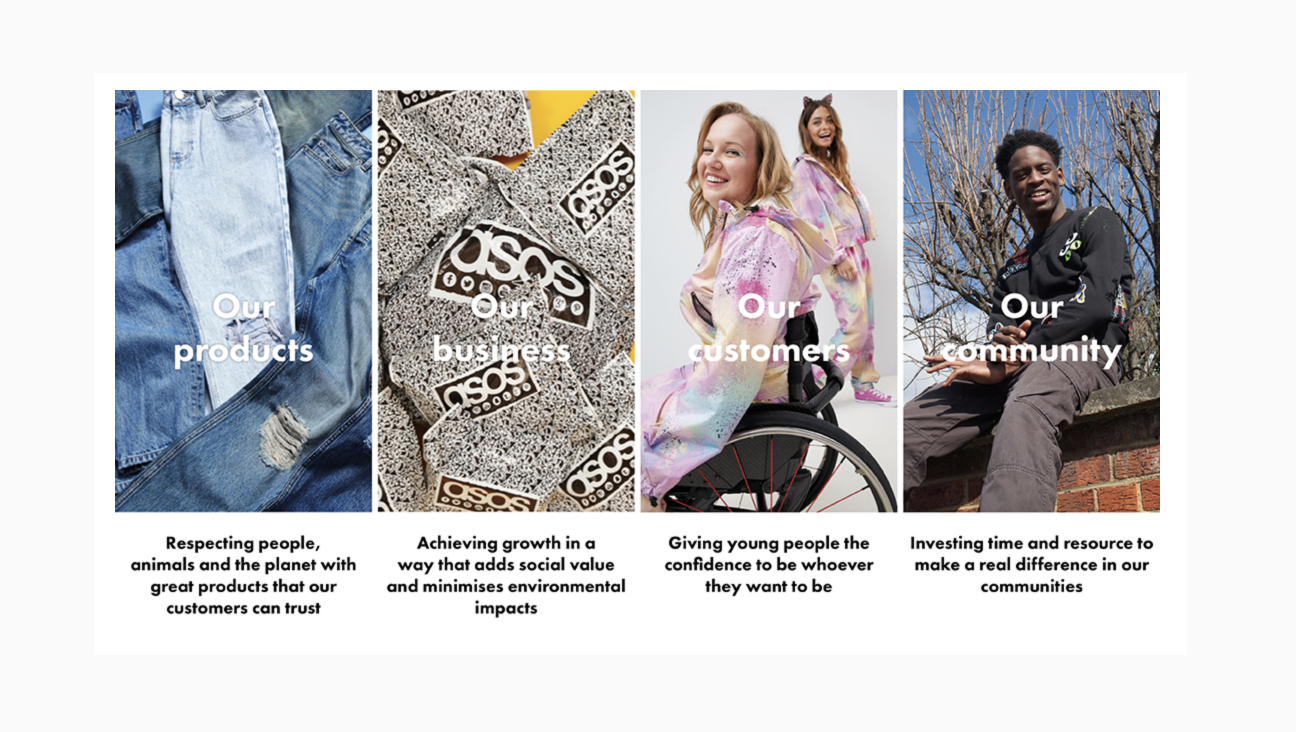 The four pillars of the ASOS Fashion With Integrity Program.
By adopting sustainability and inclusiveness, you show you care. This contributes to an excellent customer experience because people feel that you share their values and celebrate difference.
Driven by customers' needs and concerns, ecommerce and offline retail biggies have been developing a range of cashier-less concepts, from curbside pickups to smart carts and BOPI (buy online, pick up in-store) services.

Pie charts from Shopify about the popularity of contactless payments
According to Shopify, more than half of consumers are more comfortable making contactless purchases and are ready to plan and schedule time for in-store shopping for the sake of social distancing.
Amazon has introduced one recent innovation. Their "Dash Cart" handles the checkout process, eliminating checkout lines and making the whole shopping experience totally contactless. Another example is 7-Eleven, which introduced voice-activated fuel purchases using Siri shortcuts in their mobile app.
The smartest thing about such innovations is making the experience touchless, and the fact that it's linked to loyalty programs: both Amazon smart carts and 7-Eleven payments are activated through their apps with membership. Besides safer transactions, their customers get extra rewards and discounts.
Another trend is linked closely to the post-pandemic reality: there are fewer reasons than ever to go to a brick-and-mortar store. To tempt your consumers, go beyond simple grab-and-go patterns, and provide enriching in-shop entertainment options.
According to futurists, the conventional retail model will sooner or later give place to immersive theater-like experiences: a blend of entertainment and shopping.
"A resurgence in shopping malls, offering a richer range of experiences by blending retail, music, dining, and entertainment will take its place." Richard Hames, futurist
This trend is already being taken advantage of by sports and electronic brands, allowing consumers to get product experience right on the spot. For example, Vans is launching ramps in line with its "Off The Wall" branding, and Samsung offers immersive AR experiences. Walmart turned its supermarkets into outdoor spaces, and Selfridge rebranded itself as a venue for "non-traditional ceremonies".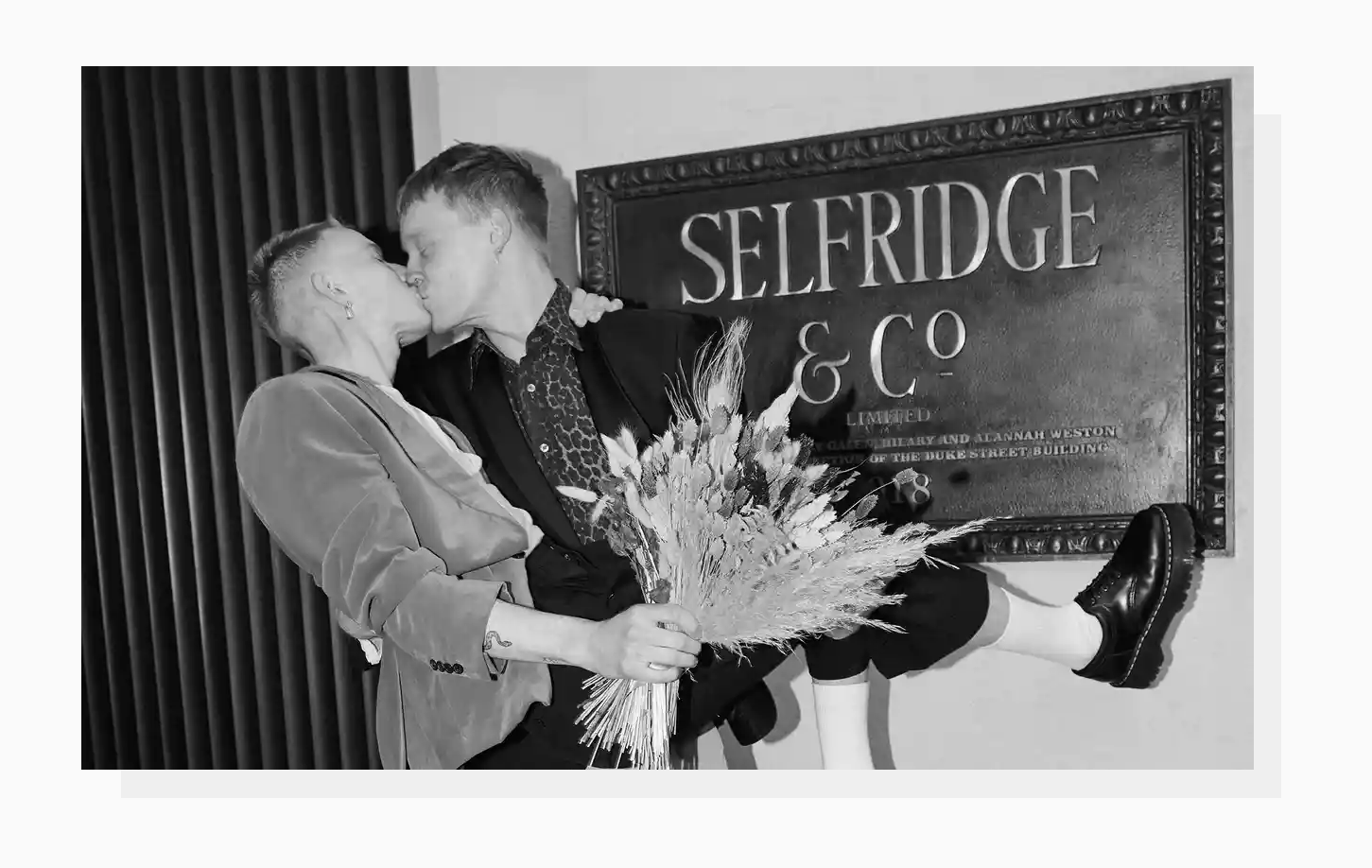 The landmark London department store Selfridge obtained a wedding license and now lets couples shop for rings, suits, and dresses and make it happen right on the spot.
Last but not least, this trend is evergreen: all retailers always have and always will struggle to accelerate their operations and logistics. Needless to say, not all businesses have mastered fast shipping and returns, and even fewer can boast about exceptional web performance.

A graphic showing the number of online consumers who prefer faster shipping
According to Shopify, more than a third of online shoppers get frustrated by slow shipping and consider the speed of delivery important for CX.
In ecommerce, page load speed and overall website performance are vital for conversions. To push online platforms towards better online experiences, Google is rolling out a page experience algorithm update. The criteria are quite clear: websites with excellent page experience metrics will rank higher, and those with poor performance will lag behind.
Nevertheless, there is still a lot of work to do for most platforms. According to a recent Uploadcare report, 95% of top ecommerce platforms at the beginning of 2021 were "in the red zone", failing at most performance audits.
👉 Check out the key figures or download the full report
Customer experience, or CX, is the full range of interactions between a brand and a consumer. In retail, these interactions (or touchpoints) embrace all the stages of the customer journey, from marketing activation to post-purchase services.
According to 66% of retail executives, CX is one of the most critical drivers for business success, because it directly influences the price premium and customer LTV.
Consumer demands and expectations have changed since the massive shift to online due to the pandemic. They expect fast, personalized services with a human touch, regardless of where they shop.
Listening to consumers and building seamless experiences across relevant touchpoints is the primary strategy for crafting the best CX.
There are five major trends for 2021 and beyond, including emerging omnichannel strategies, sustainability, touchless payments and various ways of pickup, experiential retail, and platform acceleration.