Make sure your website endures increasing online activity
Written by Olga Kokoulina. Updated on . First published on March 25, 2020, in Other
Starting from January 2020, everyone's newsfeed has been filled with news on the COVID-19 pandemic. It looks like half of the world's population is clearing the shelves, and the other is leaping at the chance to make money from the panic. While the second half may get accusations of thriving on pestilence, the desire to get through the crisis is quite understandable.
In this blog post, we'll try to stay neutral and discuss how online businesses can ride out and even benefit from users' ever-increasing online activity.
In many countries, authorities are imposing restrictions to protect their citizens and prevent the virus from spreading further. This is leading to several long-term consequences that affect businesses everywhere.
The pandemic has caused a massive shift towards working from home. Among the largest companies that have rolled out remote work policies and shut down at least some of their offices are Google, Twitter, Apple, Facebook, and many others. Uploadcare, being no stranger to remote work from the start, has closed its physical workspaces as well.
While offices are emptying, there's high business activity at home. That means plenty of video calls, chats, and web conferencing. Time magazine called it "the world's largest work-from-home experiment," which sounds good, save for the fact that it's being conducted out of necessity.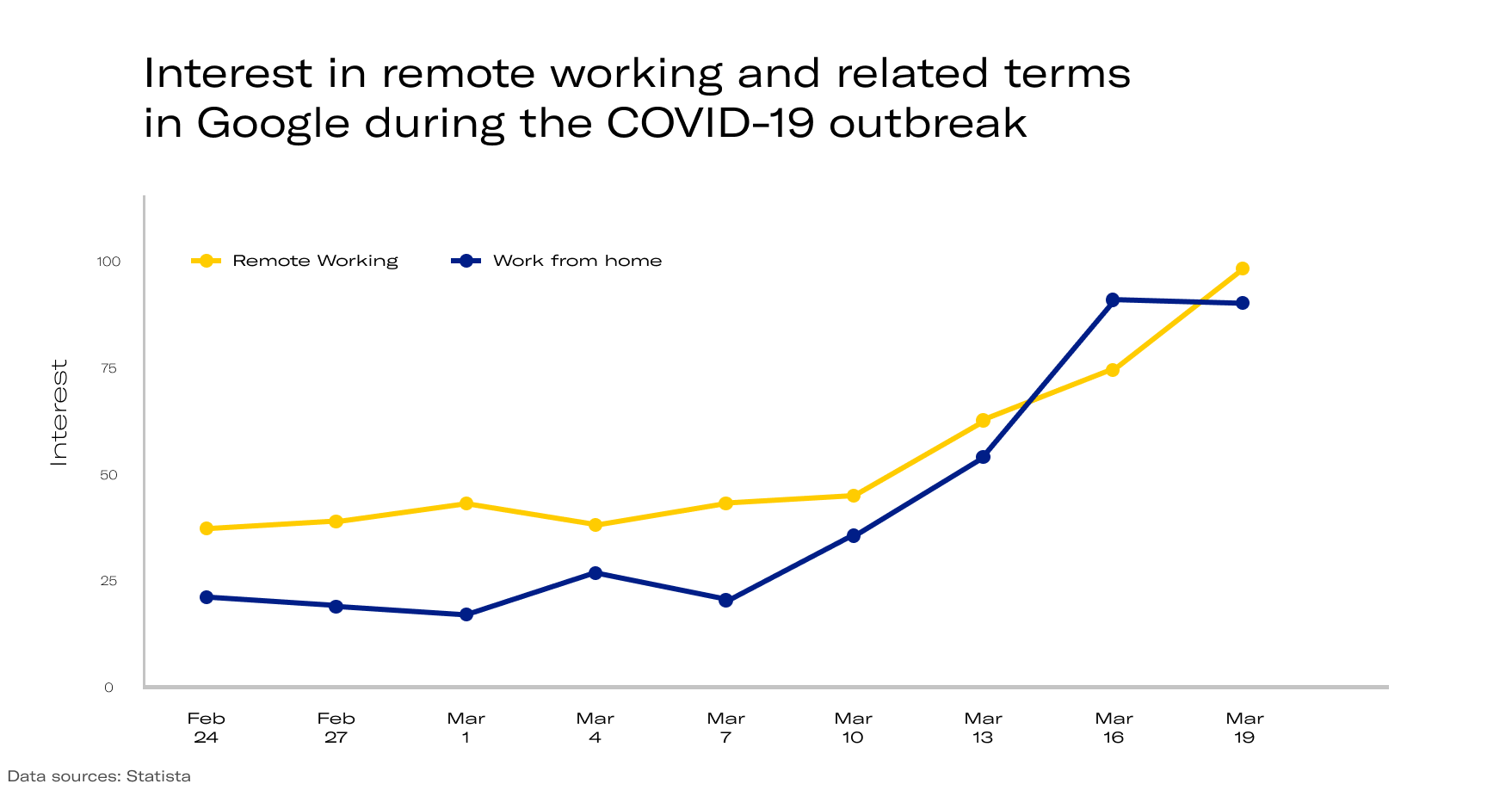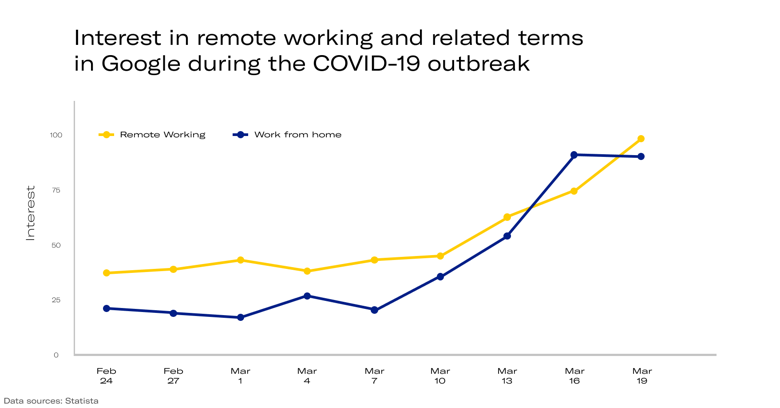 Interest in remote working during the COVID-19 outbreak
Due to the mandatory social isolation, many tasks have gone online, from food delivery to online concerts with no audience in the auditorium. According to various sources, the amount of internet traffic in different countries has increased by up to 30%. For example, China's mobile internet consumption has increased by 20% compared to the beginning of the year.
In response to the shift, internet providers (at least some of them) have promised not only to remove data caps for affected customers, but also not to terminate access for non-payment.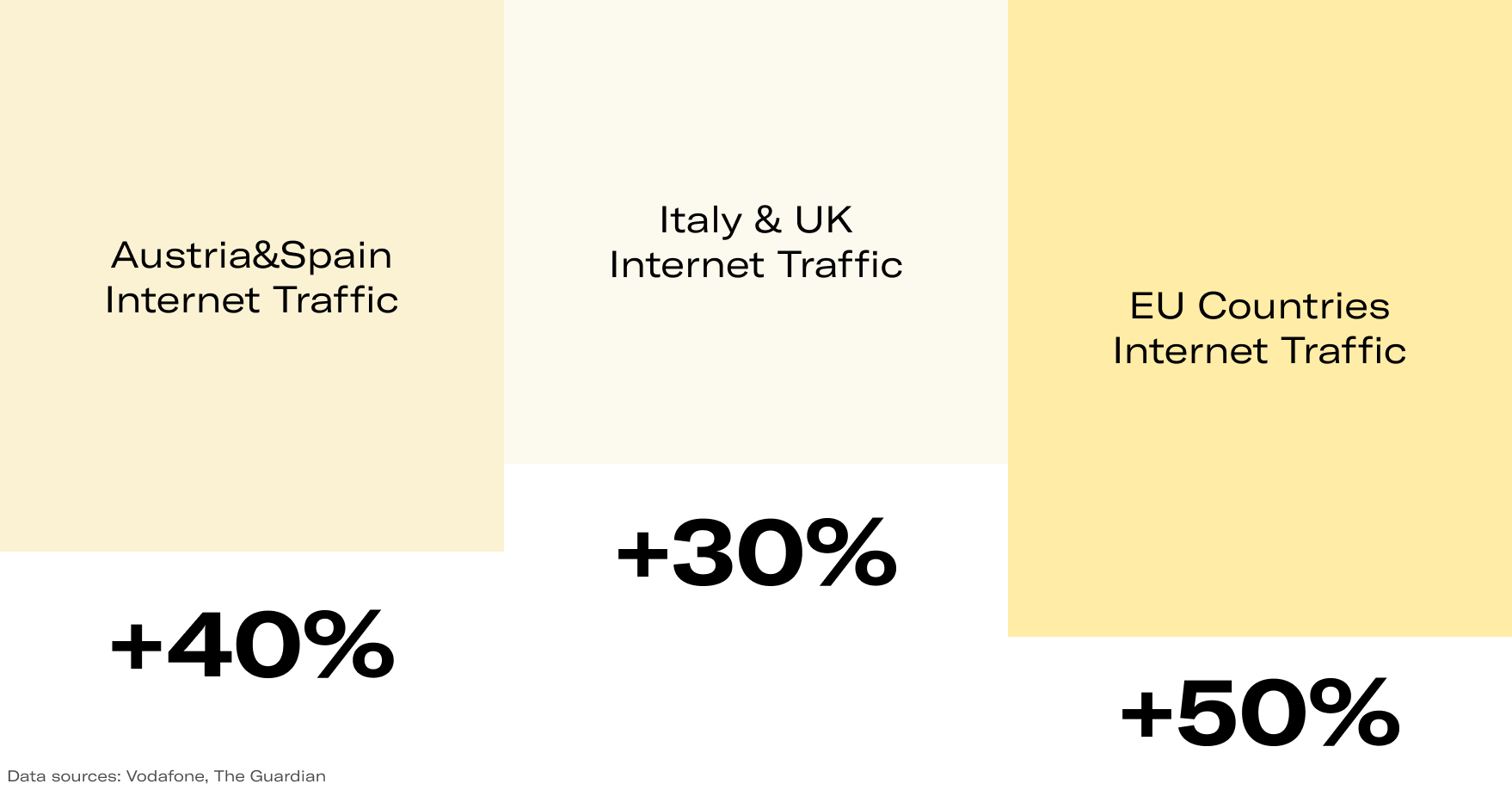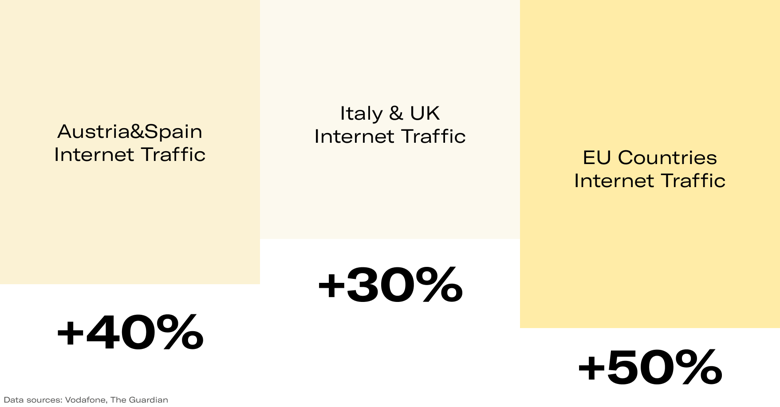 Increasing internet traffic statistics during the COVID-19 pandemic
More and more, consumers are preferring to stay at home. The change is especially noticeable in the food and delivery sector, which traditionally has been more of an offline business. Based on Contentsquare data, traffic on grocery store sites increased by 7.1% from February 17 to 23, and another 10.3% from February 24 to March 1. Transaction rates increased significantly (26.6%) over just a couple of weeks.
For those who own stores in the digital space, it has become easier to make money. This was confirmed by the CEO of online grocer Farmstead, who said that delivery volume has risen by more than 30% above normal levels in just the last week.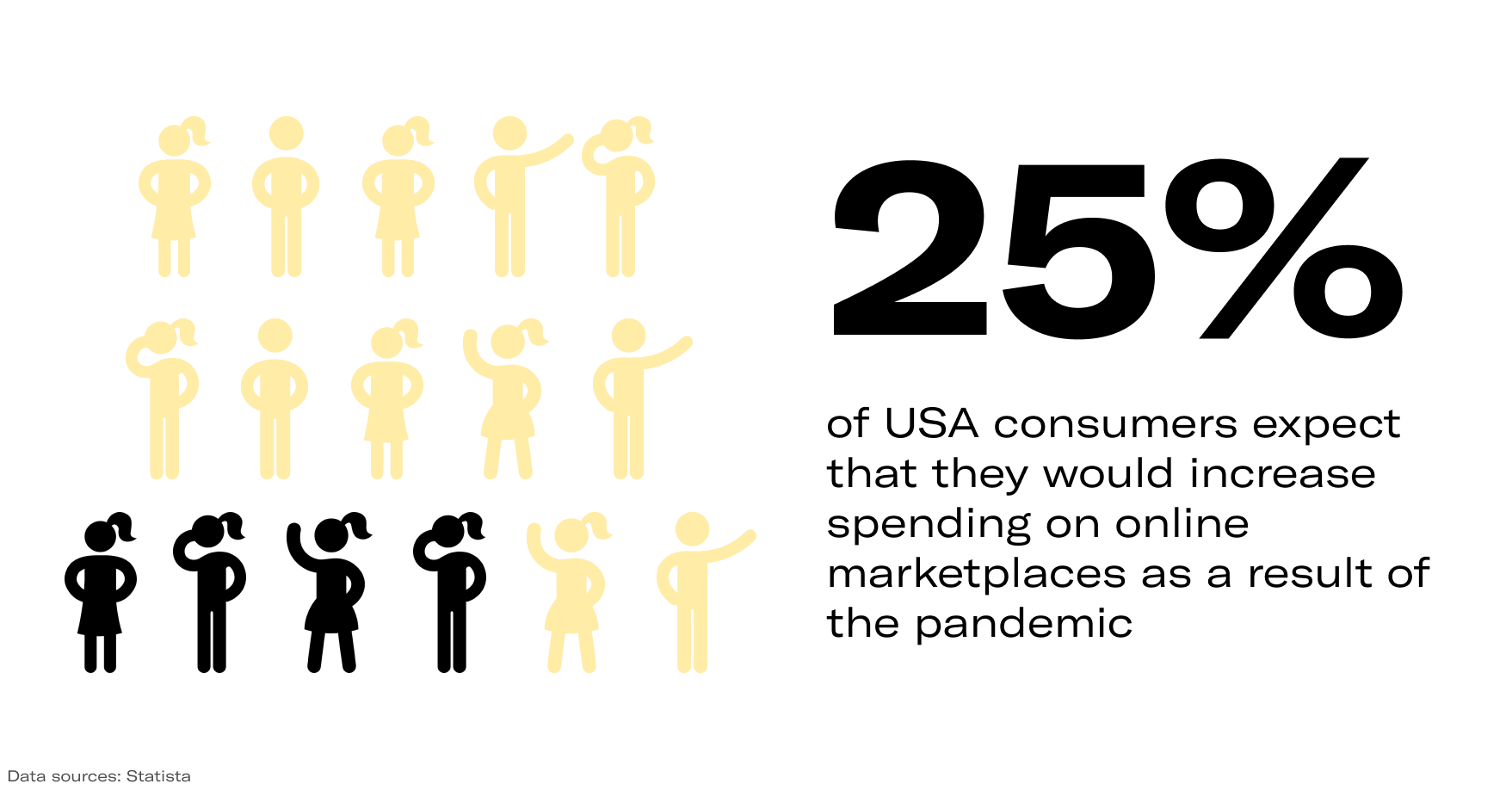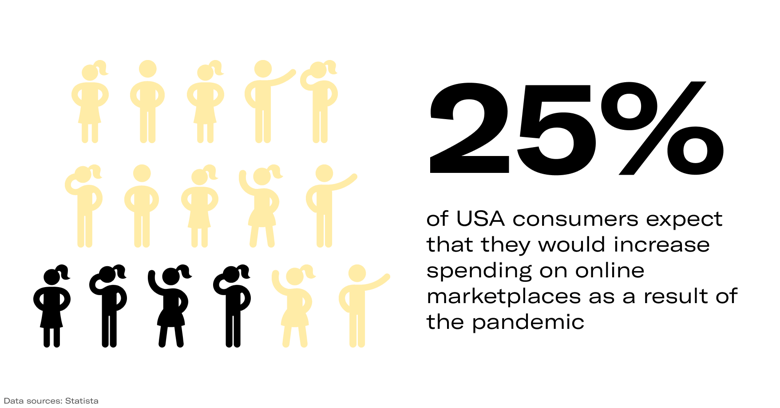 Online retail statistics during the COVID-19 pandemic
During a pandemic, people try to take more care of their health, so it's not surprising that visits to various healthcare websites have also grown. Bloomreach reports that online sales of medical products have increased from February 22-29 compared to the previous week. For instance, mask sales have increased 590% from the week prior, hand sanitizer – 420%, disinfectants – 178%, and gloves – 151%.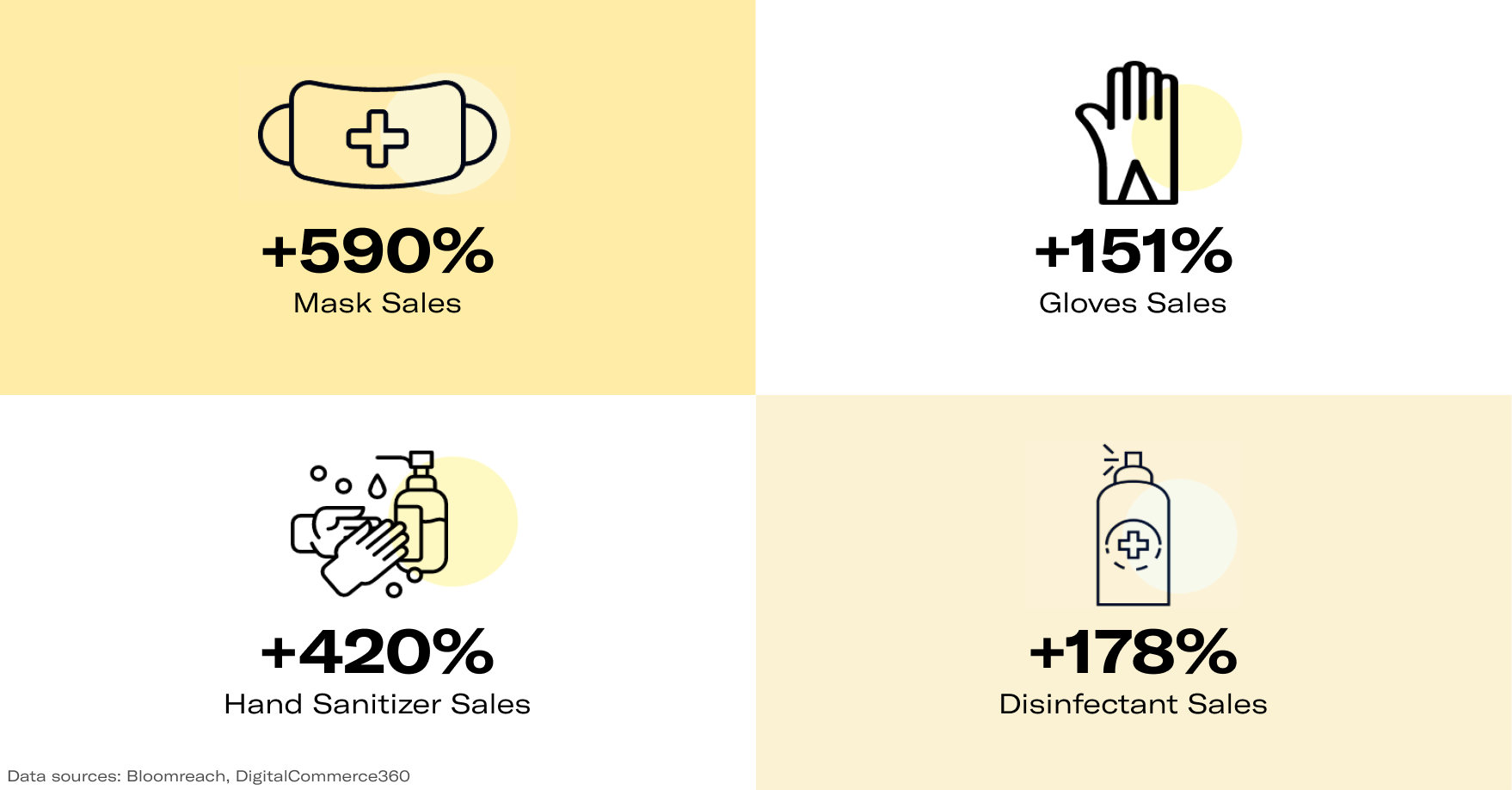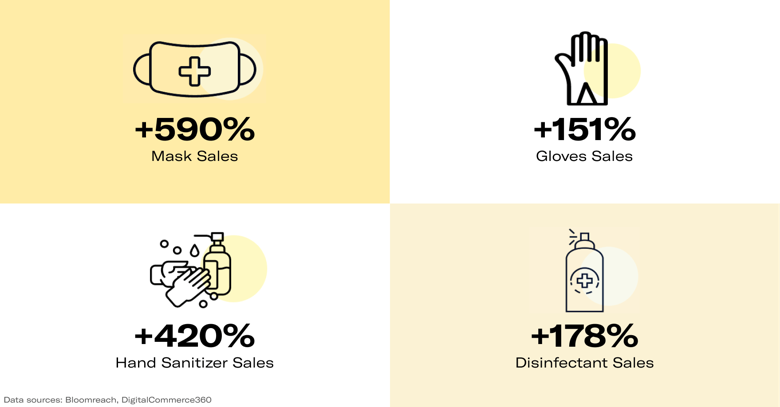 Healthcare goods sales during the COVID-19 pandemic
Whether people are in quarantine after visiting certain countries, are staying at home because they're feeling ill, or are merely trying to avoid public places, streaming video and gaming services help pass the time.
Telecom Italia, a national network, reported that the amount of traffic they process surged by more than two-thirds early in March. One of the main reasons is online multiplayer games, which consume even more bandwidth than web conferencing and other work-from-home activities.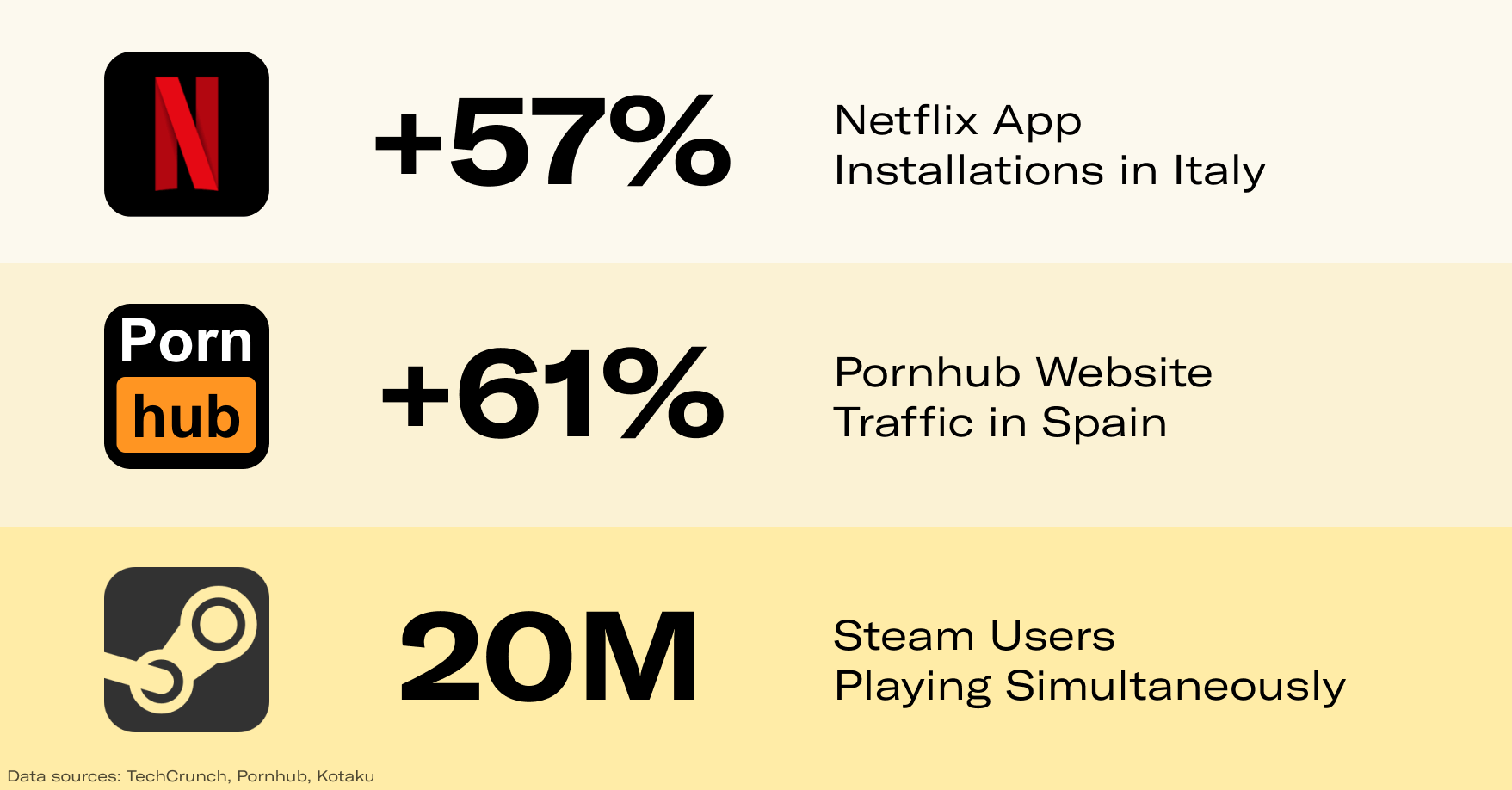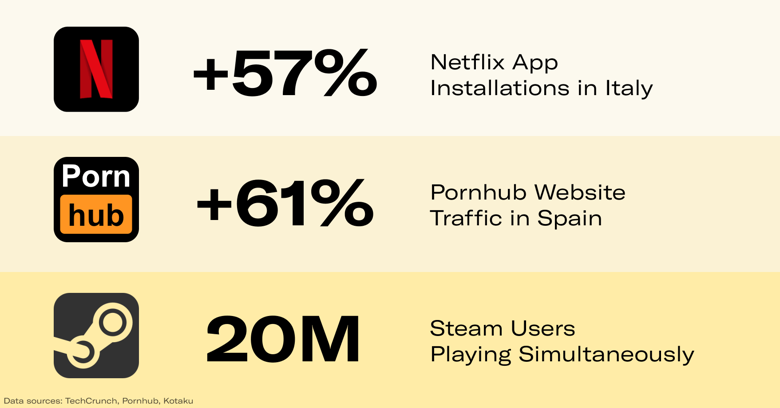 The traffic for online entertainment during the COVID-19
Over 840 million students have to stay out of school globally, according to UNESCO. For online platforms, it's an opportunity to make up for the interrupted learning process. Coursera, which provides Massive Open Online Courses (MOOC), offers its content free to impacted universities as a response to the pandemic and isolation period.
As more colleges are compelled to close their campuses and move online, educators need to adopt technologies, and fast. Even those schools that don't have much experience in teaching online have to MacGyver a bundle of solutions, such as web conferencing, streaming, and chats, adding up to an army of remote workers (with commensurate bandwidth consumption).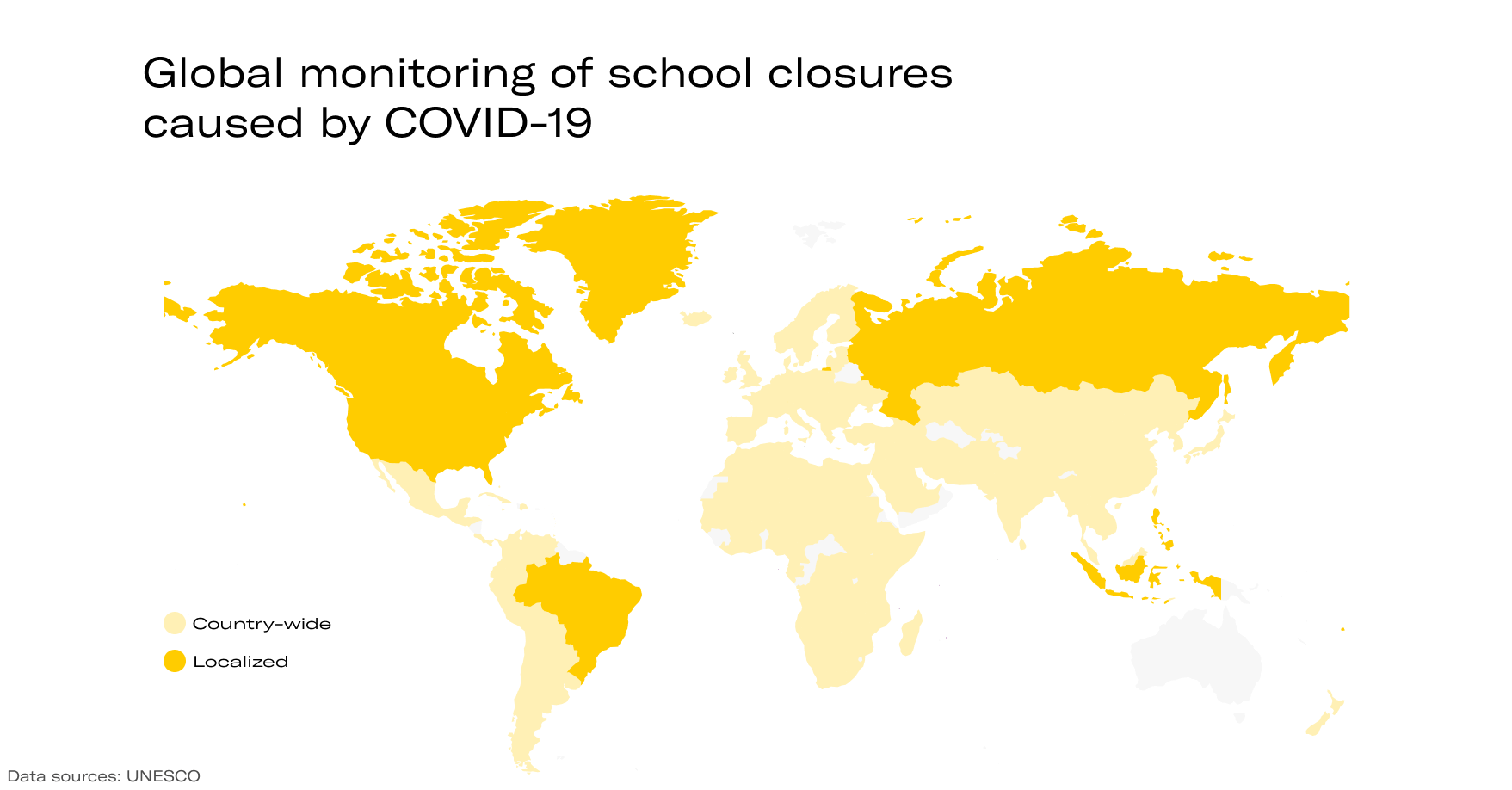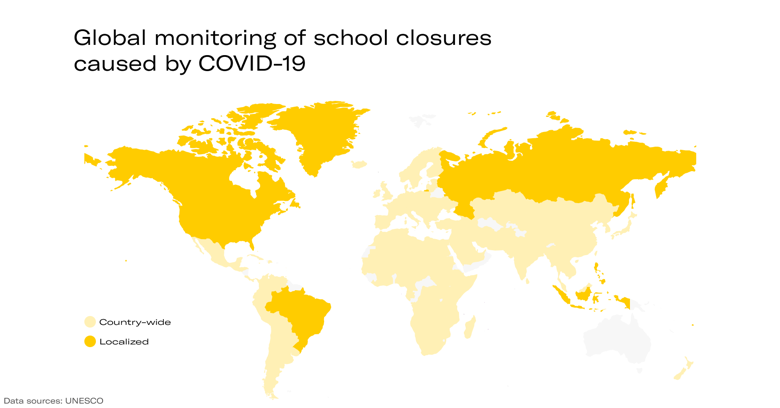 School closures caused by COVID-19
When the whole world seems to be moving online, there are at least two natural consequences.
The networks keep going, but we can't expect that the whole experience of nation-wide remote work and learning will be smooth. Ookla has been monitoring the performance of mobile and broadband internet worldwide and has gathered data on internet speed in China, Italy, and the US. In all the countries studied, there were noticeable speed declines (though no crashes as of yet).
An additional issue for some countries is access to broadband. Data from Microsoft shows that 162.8 million people are not using the internet at broadband speeds in the US despite having the technical capability. So, even if the speed remains stable, it may happen that home networks will struggle regardless, with someone binge-watching a TV series in one room while someone else is having a bunch of Skype or Zoom video conferences in another.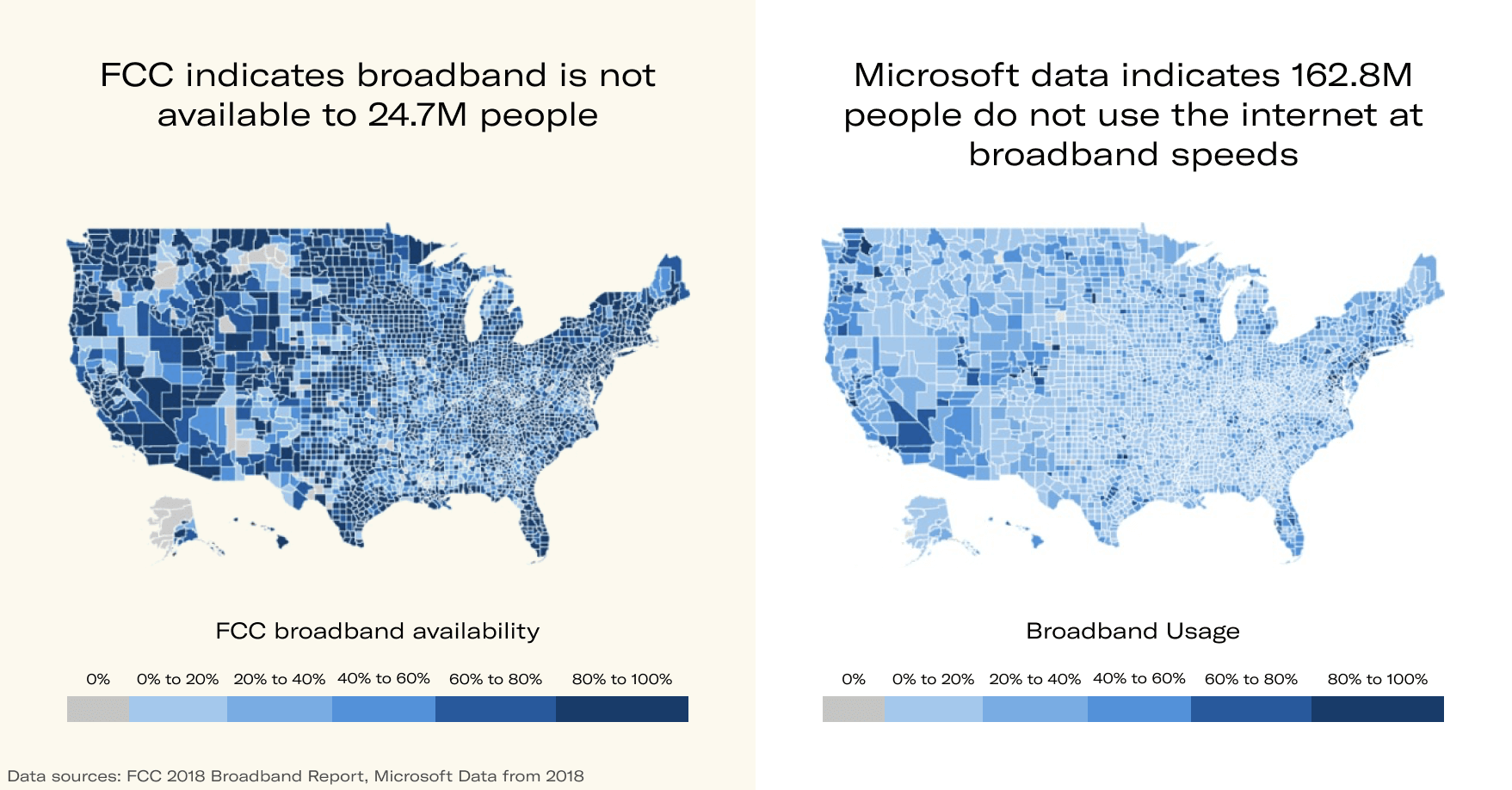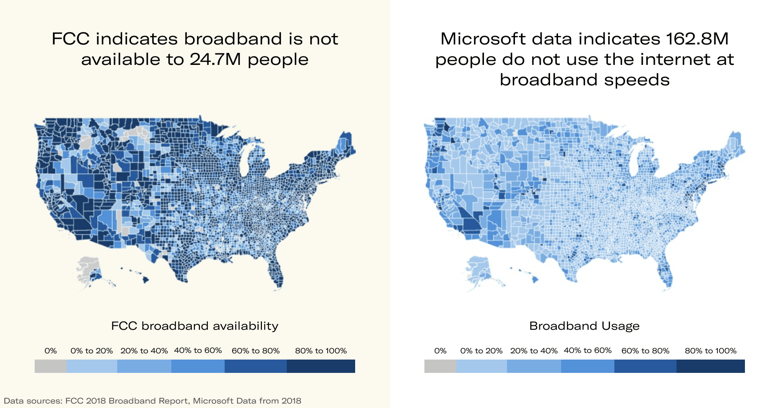 Broadband in the US
Online activity has increased and, with it, the load on servers. Discord, a popular streaming and chat service, has already experienced a server outage, as well as Microsoft Teams. On March 16th, Microsoft Teams went down for 2 hours all over Europe. There were thousands of remote workers trying to sign up and start working, so the service dropped.
But it's not only about cloud services. If you're an online retailer and there's a problem with image loading, this is just about as fatal to your bottom line as a full site crash: according to the Etsy's Seller Handbook, as much as 90% of visitors may leave your product page if there are issues with photos.
***
It seems that even though online services can profit from the current situation, coronavirus may hurt them too. The increased traffic adds up to a challenge for companies: making sure their systems can cope with spikes in visitors and, hence, server load.
Even before the pandemic broke out, it was always a good strategy to develop websites that are responsive and highly optimized in terms of graphics. Now it's become crucial, as it can affect whether a business is able to keep its head above water or not.
Below is a preparedness checklist so you can make sure your website is stable during high levels of internet activity.
A CDN, which stands for Content Delivery Network, relies on a network of multiple geographically distributed proxy servers. Since the CDN caches content, such as images, documents, and videos, it reduces the load on the origin's infrastructure and allows you to deliver the content faster.
To do that, you need to run PageSpeed Insights and Lighthouse tests. For PageSpeed Insights, all you need to do is enter your website's URL in the field and click Analyze. As for Lighthouse, it requires you to install Google Chrome (if you don't have it) and use DevTools to get a report.
Both tools quickly provide you with detailed reports on how your website is performing and what you can do to improve the current performance.
Load testing simulates traffic spikes and lets you see how your website behaves during such circumstances. Normally, load testing is an essential part of preparedness for holiday sales and Black Friday, but it also helps you be ready to repel DDoS attacks, as well as ride out crisis situations like epidemics.
The online part of the user experience depends on response time. The longer visitors have to wait to see a website's content, the less likely they will stay on that website. PageDetox is a free service that analyzes your website, provides insights on users' behavior, and highlights weak spots that can be remedied by optimizing images.
Since we've been seeing huge growth in mobile traffic, it's worth paying attention to the share of mobile users in your Google Analytics. Chances are, it's growing too. Mobile users are more sensitive to page load speed and bandwidth. With this in mind, you need to make sure that your website looks good and works smoothly on different screens — and that's just to keep your conversion rate at its current level.
With the growing load on servers, it's a good idea to monitor your website's uptime and check whether it's available and accessible to users from different parts of the world. Pingdom is among the most popular services for that purpose, but feel free to shop around for other tools with similar functionality.
Penetration testing, or simply pen test, simulates a cyberattack on your website and allows you to discover vulnerabilities if there are any. Of course, it's always a good idea to take care of cybersecurity, but with global self-isolation, the chances are your website is under attack. (It's not that self-isolated people have nothing more important to do; it's simply a statistical probability.)
Along with the growth in online business engagement comes the need to adopt reliable infrastructure solutions. Add to that the workload of IT departments who need to implement an infrastructure for remote work, and it's clear that one can't afford to waste time thoroughly testing various solutions.
Uploadcare offers a full-service website optimization solution that's got you covered without investing too much time. It includes an advanced CDN API with a highly optimized JavaScript SDK and easy-to-use File Uploader. With Uploadcare, you don't have to build any uploading or image-processing infrastructure yourself, so it saves plenty of dev work.
For example, Shogun, one of Uploadcare's clients, managed to get a full 80% reduction in bandwidth and save over $200,000 on infrastructure costs.
Since Uploadcare takes care of image processing and delivery, you can focus on the most important tasks. By simply adding a tiny code snippet and 3 KBs of JavaScript SDK, your website will:
automatically provide properly-sized images for any screen,
serve high-quality yet lightweight WebP images,
and render images with a smart lazy loading feature.
As a result, your website has a better UX, loads faster, and image hosting and delivery costs go down. It'll also benefit your page conversion rate and help you endure this recent abrupt worldwide shift to online.
The COVID-19 crisis still has an open ending. While ensuring the safety of human beings is the top priority, online businesses need some protection too. The rising cost of bandwidth, higher loads for servers and services, and possible declines in internet speed aren't things that can be treated lightly. All of them have a direct impact on e-commerce, SaaS, media, eLearning, and many other industries that need to handle content delivery.
Optimizing and automating content delivery are the natural next steps for those who'd like to build a safety net not only for their personal health, but for their online businesses as well.