Google announced yet another core update on December 3rd, sowing confusion among the SEO community. Though core algorithm enhancements happen regularly, nobody was expecting a big one to come out right before the holidays.
Сonsequently, most businesses saw ups and downs on SERP along with significant traffic fluctuations. How about you? Whether you've taken a hit or are celebrating a huge SEO win, read on. We've got some insights and strategies to make this topic a bit less unnerving.
Short answer: Google improved its content assessment algorithm and re-evaluated all websites in all languages around the globe.
To bring their search users maximum value, Google regularly shakes up the SERP and promotes websites that have the most relevant content. It also evaluates new websites and makes them a part of the game. As a result, businesses that continuously improve their content relevance don't see changes or even enjoy a boost. The rest get outperformed and experience tremendous drops.
Previously in 2020, core updates took place in May and January, aiming to improve content relevancy. In its December announcement, Google didn't disclose any specific details and asked webmasters to draw conclusions only when the update rolled out. Therefore, everybody was left in limbo until December 16th, observing traffic swings in both directions:
Now that everything's over, we can take stock of the changes and reflect.
Judging by rank volatility reports from data providers like SEMRush and RankRanger, the update was even bigger than in May 2020. The SEO community calls it "second-wave," suggesting that the effects are already more severe.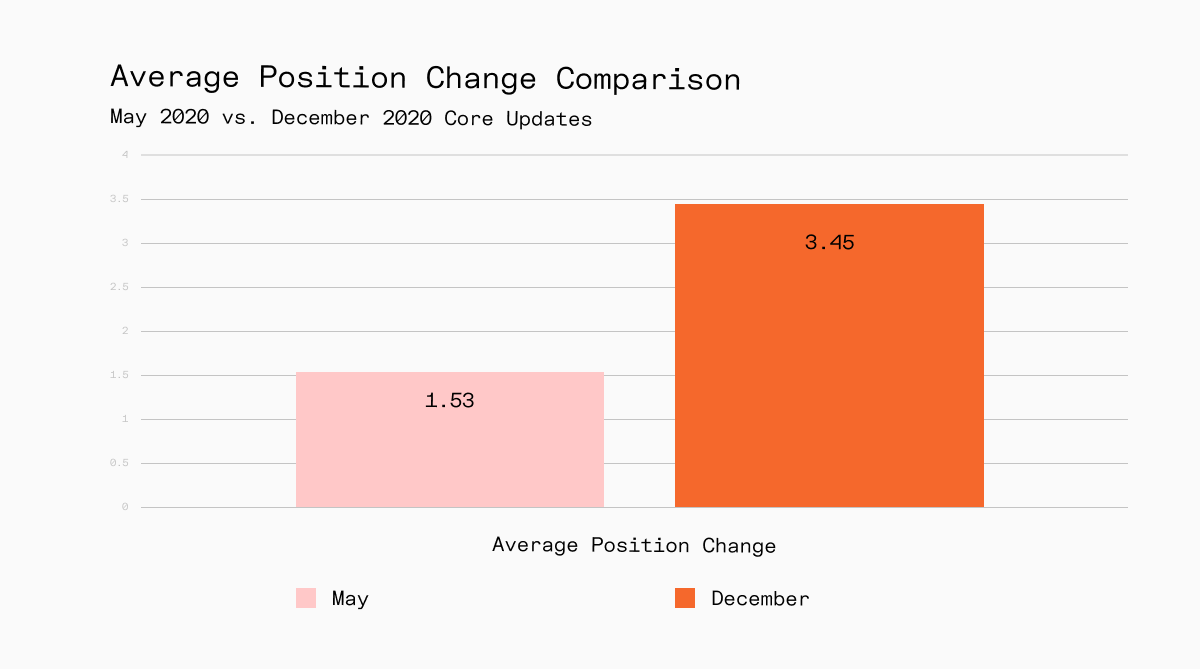 Google improves its content assessment systems by rewarding websites that perform better on particular search requests. So, if you got hit, it doesn't mean that your website is penalized or has poor quality content. It only means that there are websites that are even better at answering particular search requests.
"One way to think of how a core update operates is to imagine you made a list of the top 100 movies in 2015. A few years later in 2019, you refresh the list. It's naturally going to change. Some new and wonderful movies that never existed before will now be candidates for inclusion.

You might also reassess some films and realize they deserved a higher place on the list than they had before. The list will change, and films that were previously higher on the list aren't suddenly now bad. There are simply more deserving films that have come after them."

— Google
According to SEMRush sensor tracking tool, Health, Real Estate, Travel, Finance, and Law & Government suffered the most on desktop search, while Health, Law & Government, Jobs & Education, Pets & Animals, and Real Estate collapsed on mobiles. See some overlap? In our opinion, it's no wonder: most of these industries are so-called YMYL (your money or your life) and therefore need substantial and trustworthy content more than any other industries.
In fact, online biggies were hit even more than smaller websites. According to SEMRush, almost 50% of the websites downgraded by Google have more than a million visitors per month.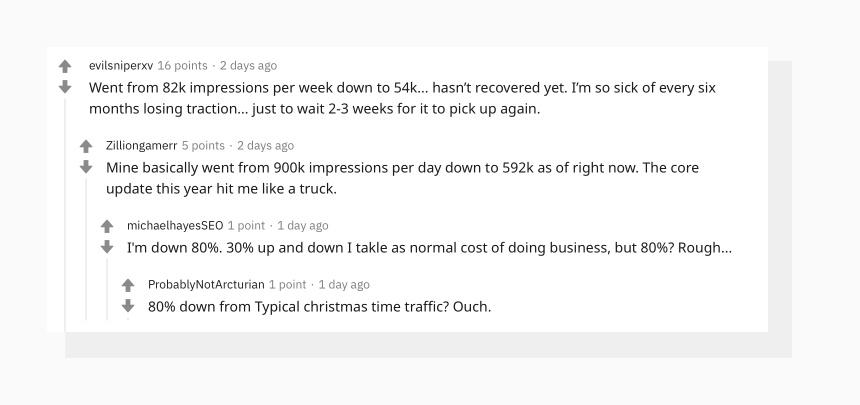 Unlike Penguin and Panda updates, the core updates refresh data regularly. This was confirmed by John Muelle, a webmaster trends analyst at Google, in September 2020. And this is great news: if you got hit, you won't have to wait 3 months or so to pick up your lost organic positions.
"It's not something that requires a site to kind of wait for the next update to have a chance to be seen differently. They can continue working on things and things can improve over time. It is possible that our next core update will make a bigger change in the same direction that you've been working, and you'll see a bigger change in your site's performance as well."

— John Muelle, Google
Google gives some guidance, but compared to Panda and Penguin, there are no specific details. All we know is that content is king, and if you want to get the most out of the core updates, you'll need to polish it. Here are some steps to take:
Which of your competitors started to rank higher, and which dropped down? Are there any new players in top positions? Compare your website to the winners and losers and try to extrapolate any possible patterns.
To create an assessment checklist, you might use this set of questions offered by Google:
Content and quality questions
Expertise questions
Presentation and production questions
Comparative questions
Does the content provide original information, reporting, research or analysis?

Does the content provide a substantial, complete or comprehensive description of the topic?

Does the content provide insightful analysis or interesting information that is beyond obvious?

If the content draws on other sources, does it avoid simply copying or rewriting those sources and instead provide substantial additional value and originality?

Does the headline and/or page title provide a descriptive, helpful summary of the content?

Does the headline and/or page title avoid being exaggerated or shocking in nature?

Is this the sort of page you'd want to bookmark, share with a friend, or recommend?

Would you expect to see this content in or referenced by a printed magazine, encyclopedia or book?



Does the content present information in a way that makes you want to trust it, such as clear sourcing, evidence of the expertise involved, background about the author or the site that publishes it, such as through links to an author page or a site's About page?

If you researched the site producing the content, would you come away with an impression that it is well-trusted or widely-recognized as an authority on its topic?

Is this content written by an expert or enthusiast who demonstrably knows the topic well?

Is the content free from easily-verified factual errors?

Would you feel comfortable trusting this content for issues relating to your money or your life?



Is the content free from spelling or stylistic issues?

Was the content produced well, or does it appear sloppy or hastily produced?

Is the content mass-produced by or outsourced to a large number of creators, or spread across a large network of sites, so that individual pages or sites don't get as much attention or care?

Does the content have an excessive amount of ads that distract from or interfere with the main content?

Does content display well for mobile devices when viewed on them?



Does the content provide substantial value when compared to other pages in search results?

Does the content seem to be serving the genuine interests of visitors to the site or does it seem to exist solely by someone attempting to guess what might rank well in search engines?



Those questions don't come out of the blue. They represent the E-A-T content paradigm, which stands for Expertise, Authoritativeness and Trustworthiness. These three characteristics are at the core of Google's quality rater guidelines and are used to test and enhance search algorithms.
Though E-A-T is not a ranking factor, it sheds lots of light on what quality content is. The logic behind it is aligned with the signals the algorithm actually uses.
"We have been occasionally asked if E-A-T is a ranking factor. Our automated systems use a mix of many different signals to rank great content. We've tried to make this mix align what human beings would agree is great content as they would assess it according to E-A-T criteria. Given this, assessing your own content in terms of E-A-T criteria may help align it conceptually with the different signals that our automated systems use to rank content."

– Danny Sullivan, Google
Grab some tips on how to make your content E-A-T by Maryna Korchahina, SEO Expert at Uploadcare:
1. Include high-quality citations and support statements with facts from trusted resources. Backlinking is still important: a solid piece of content should be supported by solid information sources.

2. Show expertise. Author bios at the end of the page are not enough: ideally, your authors should be real experts.

3. Keep your content fresh, and regularly update blog posts.

4. Make reading comfy for both robots and humans: use structured data and take care of the website user experience.

– Maryna Korchahina, SEO Expert at Uploadcare
You can have lots of useful and substantial content, but still suffer negatively from core updates. How come?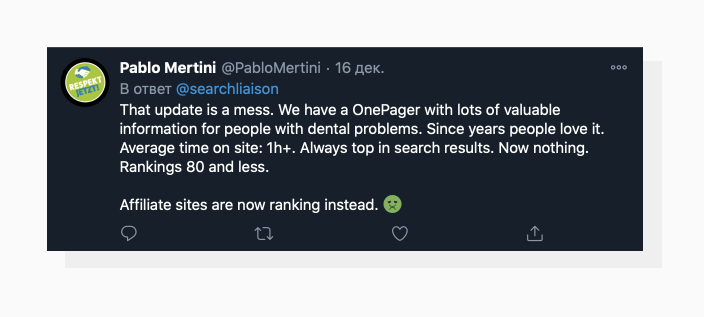 A possible reason it happened is because your content, though high quality, is too vague. If we take the example from the screenshot above, it looks like those guys collected lots of valuable information on one page, but a person who wanted to search for a specific topic would have to look through a wall of irrelevant content.
That's why it's better to make sure that your content is focused and speaks directly to the searcher's intent. Grab some related tips from Mordy Oberstein, RankRanger CMO:
Focus your content on the specific topic of the query. It should be exclusively about that topic, nothing more, nothing less.
Find a balance between being focused and substantial. Offer real, digestible, well-structured information that's straight to the point.
Consider changing your content strategy and bank on hands-on content. It seems that the era of broadly reaching pages is coming to an end.
We also asked Ilya Telegin, Organic Traffic Utilization Strategist at Uploadcare, to expand on this issue of "content vs. intent" in terms of working with an SEO kernel, and here are some solid tips:
1. Read more about Google's BERT deep learning algorithm. It helps the search engine to understand what every request means, and checks the individual context. Then it matches the intent behind the request with your content. That's why, to rank higher, you should know the needs of your audience at every stage of the customer journey. Use frameworks like AIDA or Awareness Ladder to choose the right keywords and craft content accordingly.

2. Have a strategy. Plot the user journey across your produced and planned content pieces. Craft content using one of the two concepts as your starting point:

👉 Start with a seed keyword for your future content piece and then collect related satellite keywords. Consider checking out LSI keywords.

👉 Start with a topic. Google it and look for the best matches on SERP 1-5. Build an organic keyword report using your favorite keyword tool. As a result, you'll have a list of keywords that you can use to craft content which matches both user intent and the topic. You can further expand the resulting SEO kernel with keywords that are unique to your product or brand.

– Ilya Telegin, Organic Traffic Utilization Strategist
Google rolled out yet another core update on December 16th. Was it an SEO armageddon or a big win? You tell us! There were ups and downs in rankings, and traffic fluctuations in both directions.
What happened is: the search engine enhanced its content assessment algorithm and re-evaluated webpages in all languages. The quality and relevance of information were the core assessment criteria.
If you need to recover your positions or make them stronger for future updates:
Study your SERP competitors and assess your content against theirs.
Introduce more E-A-T content.
Make sure your content corresponds to the query's intent and topic.