5 innovative ways to handle user-generated media content
Written by Jenny Chang. Updated on . First published on October 28, 2020, in Other
User-generated media content is becoming omnipresent in the marketing world because of its ability to humanize your brand and make it relatable to your prospects. This article answers the question of how to manage user-generated content innovatively so that you can increase your brand's credibility and reduce financial resources spent on marketing campaigns.
Let's start with why you should bother with user-generated content for your marketing efforts.
UGC is any content created by a person who is not affiliated with a brand. This can be in the form of a comment, social media post, review, or video. Instagram is one of the primary channels where you can find a lot of UGC. (In this guide, you'll find some useful tools to help you deal with Instagram content.)
Brands, when they post about themselves, naturally make their product look perfect — shot from the best angle with the best lighting. Customers, however, often want to see what it looks like in real life and hear from an actual, regular person, not a spokesmodel.
Take this for example. Everlane, a clothing company, has a dedicated account where they post looks shared by their customers.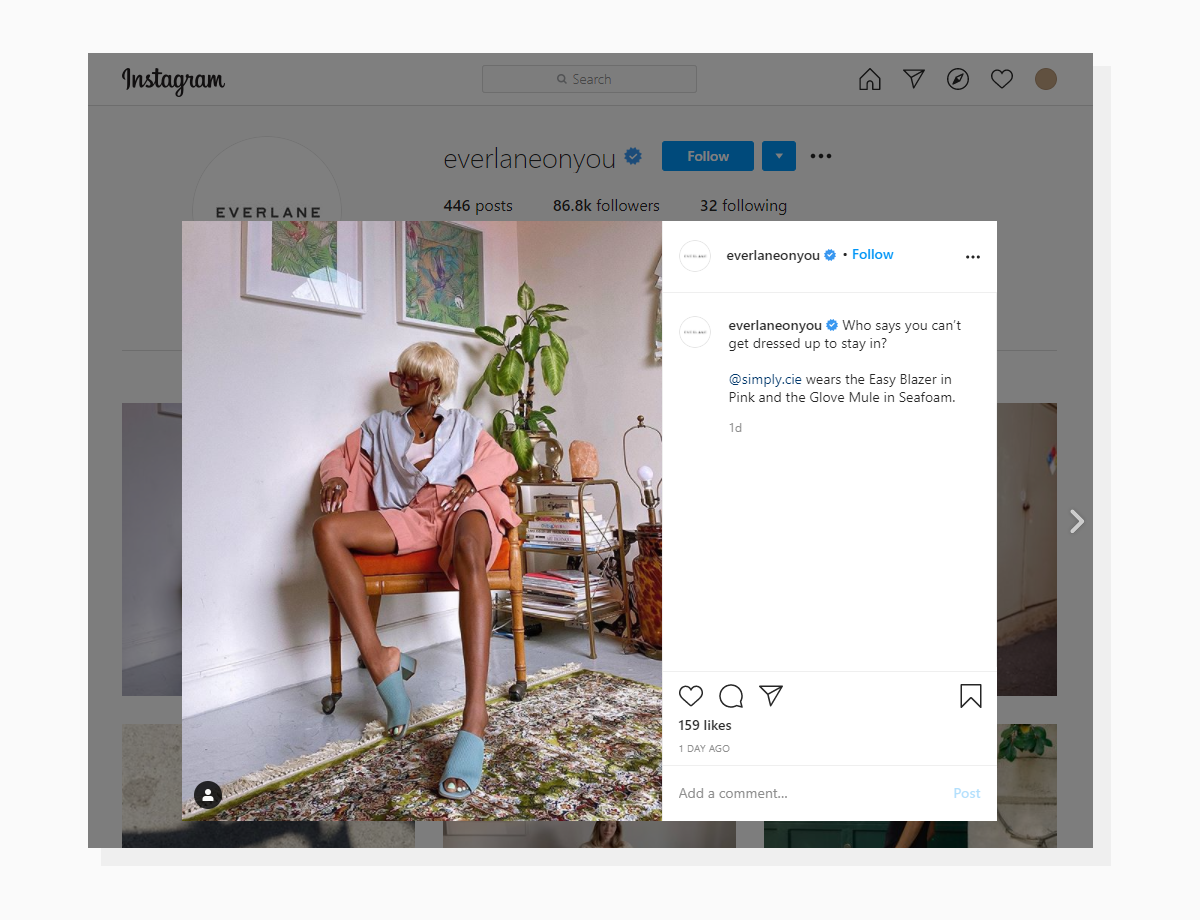 A curated page of photos taken by customers wearing a clothing brand's products.
What makes it so effective is that it promotes authenticity and builds trust among customers. For example, millennials trust UGC 50% more than other media. Another study shows 90% of US shoppers admit that UGC is the most influential part of their purchasing decision.
With these data in mind, it's a no-brainer to maximize UGC for your brand's marketing. Not only does it save you costs as the content is made by users, but it also improves customer loyalty and boosts brand awareness.
Social media and user-generated content go together like peanut butter and jelly, which is why you must publish content policies so that you can provide customers and prospects guidance regarding your expectations of their behavior and communications online. It also helps you maintain brand identity across channels and encourage your customers to own and amplify your brand's message.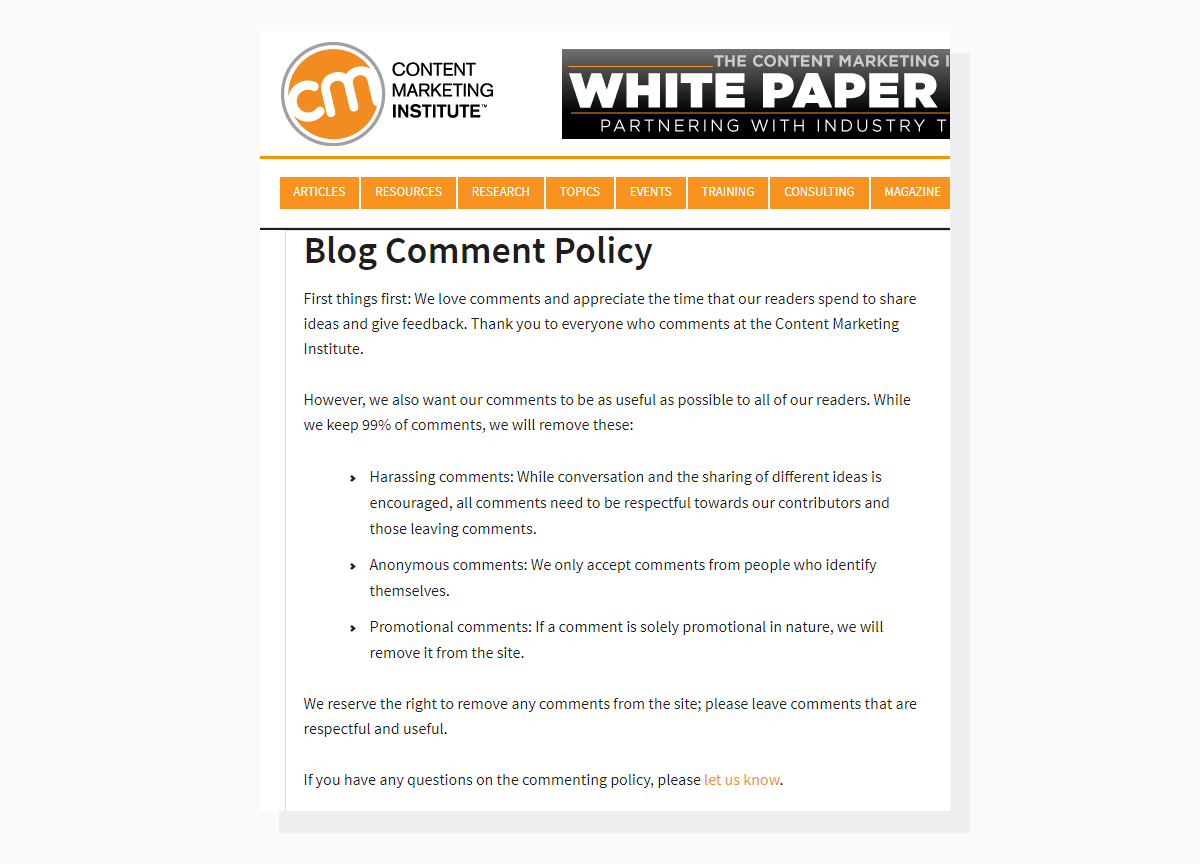 Example of a blog comment policy from Content Marketing Institute.
Content policies will outline how you manage user-generated content in each channel, which is extremely important in preventing a full-blown public relations crisis should consumers post something negative online about your brand. Moreover, they allow your customers to be more aware of content which is permissible to share for your organization's benefit.
Additionally, they raise awareness for your employees so they can find comments and posts that could defame your organization and/or leak sensitive information, thereby preventing any potential lawsuits. Creating a clear set of online content policies for user-generated posts also enables you to choose the most effective social networks for your campaigns. Plus, it helps you find out where excellent interactions take place and see your audiences' locations online.
Implementing gamification initiatives with user-generated content marketing messages allows customers to make content sharing rewarding and entertaining. Additionally, reimagining the content-sharing process as a game also engages consumers with the brand and motivates them to accept a call to action.
An excellent place to start implementing gamification in your user-generated campaign design is by hosting online contests and creating leaderboards. Leaderboards unleash the competitive component of your social media contests and encourage your third-party brand advocates to deliver high-quality and creative content that can attract other prospects to sign up for your services.
As a reward, you can either provide discounts and coupons for your brand advocates or offer them badges or social acknowledgments for added online engagement.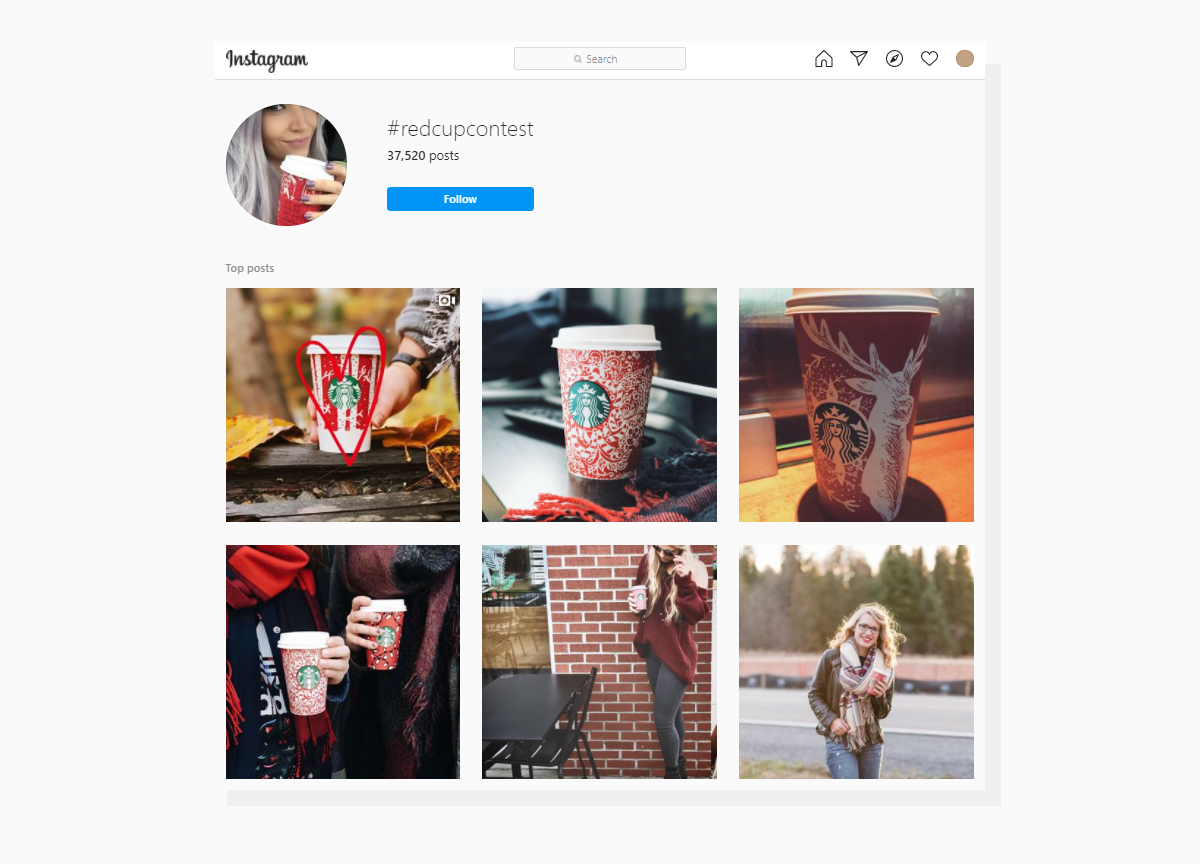 Starbucks hosts the #RedCupContest in December, encouraging customers to submit photos of their red Starbucks cups using the hashtag for a chance to win a gift card.
According to the aforementioned report, consumers believe user-generated content is 2.4 times more authentic than normal company-created content. User-generated content campaigns will find more engagement if you offer rewards, social reinforcements, and triggers to incentivize your customers.
Using tools to manage media content nowadays is crucial, especially with the growing number of social media users. You can collect UGC by looking through your brand hashtags, mentions, and tagged posts. Using a tool such as a content management system or a digital asset management system can help you curate, store, and manage the content for future use.
Using content management system software for your website also enables you to monitor performance and analytics to measure each user-generated post's engagement metrics and moderate the content to maintain the utmost quality content for campaigns.
The content you aggregate from social media is unfiltered, so you'll need to actively moderate it and restrict irrelevant and abusive content.
Additionally, these social media engagement tools let you gather photos and videos you're tagged in and mentions of your company on social media. They also include a rights management attribute, allowing you to collect users' content and repurpose it for your campaigns without any legal consequences.
Having a social media manager to oversee company and fan activities online is vital for staying on top of your user-generated content and ensuring that you can handle increasing website activity. It also enables you to highlight consumer content which portrays the company positively on social media platforms. Your moderators can help curate content in a timely manner, and resolve customers' queries so you can keep them satisfied via continued engagement.
Moderators can also keep an eye on unfavorable responses, helping marketing experts understand people's opinions towards a product or service. By knowing your audiences' reactions, you can gain valuable input that can be used to make the necessary changes to your products and services to keep customers happy and satisfied.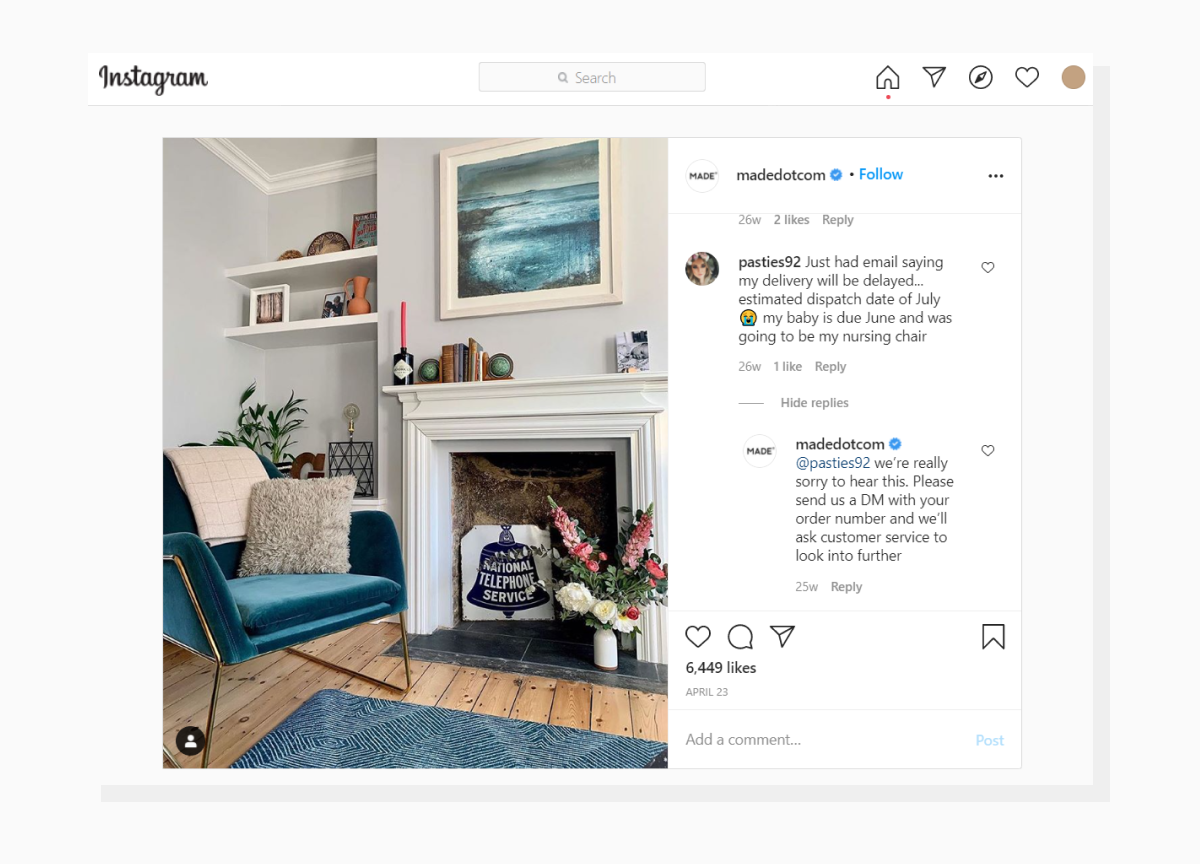 Instead of ignoring negative and disappointed comments, MADE responds and tries to solve issues, strengthening customer loyalty and satisfaction.
Furthermore, moderating user-generated content allows you to achieve an organic ranking on search engines, helping your organization improve their online presence. It's worth noting that any negative reviews or feedback towards your products directly affects your website's ranking in search engines. With a user moderator, you can filter content before it appears and influence other people on the platform, thereby increasing the chance of ranking organically.
Bot spamming has become a trend on social media channels and similar platforms. A perfectly positive thread full of happy customers can be instantly ruined by a spambot flooding it with junk. That's why you must take advantage of CAPTCHAs to fend off malicious bots from spamming your social media platforms with unwanted advertisements and messages.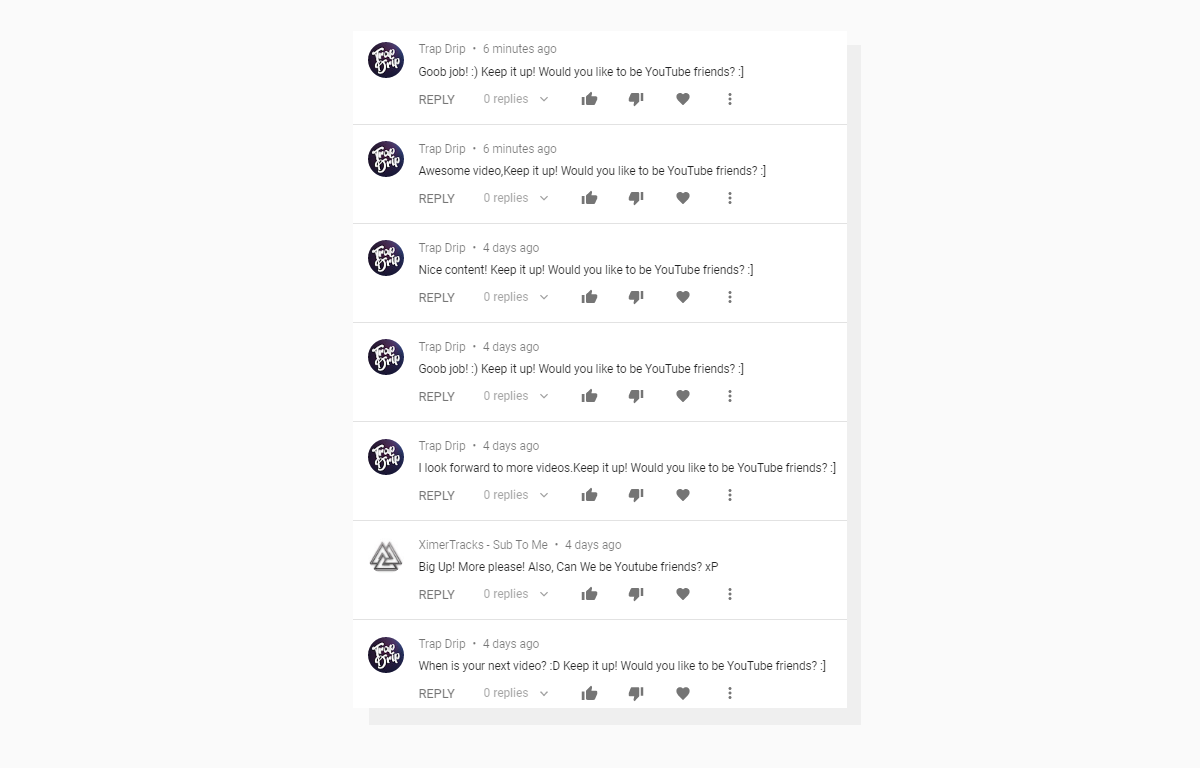 An example of a thread full of spam comments.
A CAPTCHA is a powerful program that safeguards websites against bots using tests that humans can pass but existing computer programs cannot. It's a significant security measure that protects user-generated content threads from negative publicity and anything that may jeopardize their information and the site itself.
Using CAPTCHAs, you can prevent automated comment spamming and ensure that spam doesn't interfere in genuine user interactions and frustrate your customers. It also enables you to uphold a particular standard of content quality and protect yourself from black hat SEO techniques.
Effectively managing user-generated content empowers organizations to be more proactive in fostering long-term relationships with customers that result in multiple sales over time. By building your multi-channel SMM around customer content, you can establish trust and awareness with existing prospects and showcase positive customer experiences.
If you'd like to enable UGC in your project, Uploadcare's got you covered. Uploadcare is an end-to-end media pipeline that provides full-stack technology to manage your content's entire life cycle.
It's a complete toolbox that includes solutions for secure uploading, intelligent processing, and adaptive delivery that work together to relieve you and your team from a plethora of manual file handling work. Feel free to test-drive Uploadcare and make sure it's the go-to solution for your project.