The guide to eCommerce metrics. Part 4. Ecommerce conversion rate
Written by Yulia Nazarenko. Updated on . First published on November 16, 2020, in Other
👉 The guide to eCommerce metrics. Intro
👉 Part 1. The total number of visits
👉 Part 2. Pages viewed per shopping session
👉 Part 3. The number of active customers
👉 Part 4. eCommerce conversion rate (you're here)
In our last article, we talked about the number of active customers and revealed some of Amazon's best practices on how to generate them. We also showed you how to win hearts and minds, turning visitors into customers and customers into active customers.
This time we're going to focus even more on these important transitions along the customer's journey and explain how to measure them with the conversion rate (CR) metric. As usual, you can skip the long read and get a distilled overview by downloading our report.
Simply put, this metric shows how many visitors of your website or app do what you want them to: make a purchase, subscribe to a newsletter, fill out a form, or perform any other action that's valuable for your business.
In ecommerce, a conversion is usually defined as a successful purchase transaction, and the conversion rate, respectively, is defined as the ratio of visitors who make their way through the checkout.
Ecommerce CR = (Successful transactions / Total number of visits) * 100%
For example, if you have 1,000 visits (or sessions) and 10 of them result in a purchase, the CR will be 1%.
There are micro and macro conversions. Micro conversions nurture your leads and build on the purchase intent, guiding your customer to the desired action. Examples of micro conversions are: adding items to the cart, watching a product video, viewing pages, or signing up. A micro conversion can be:
navigation-based (doing a search, starting the checkout process);
interaction-based (adding an item to the cart, filling out details);
engagement-based (viewing a certain number of pages).
Macro conversions are the primary goals that serve the main purpose of your website. As the main objective for any ecommerce site is revenue, a macro conversion here is a purchase or a repeat purchase.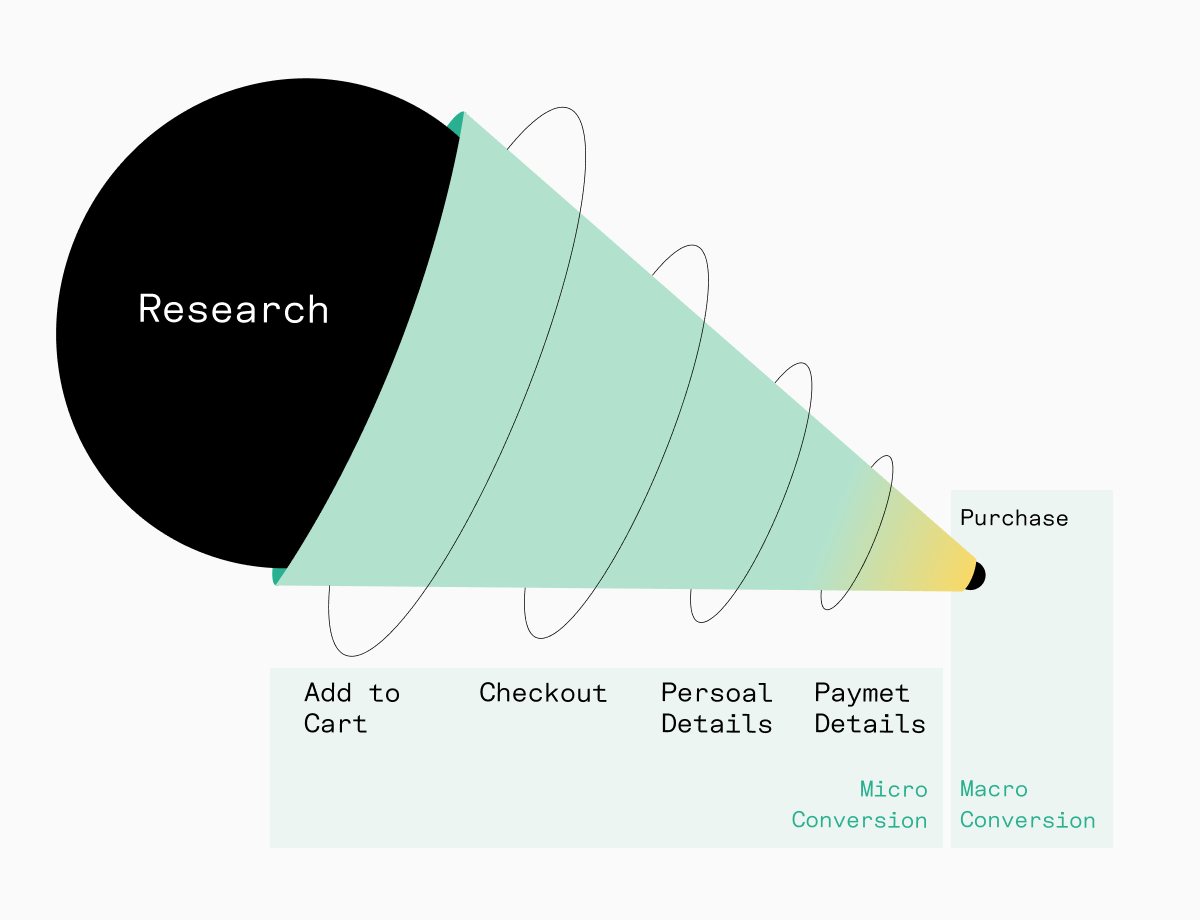 Micro conversions pave the way to the macro conversion, which is a purchase.
So, why is CR important? Because it directly contributes to ROI. Improving conversions means growing revenues in the most cost-effective way. It means being sustainable, as you can't always bank on new customer acquisition to meet your commercial goals. In essence, without a good CR, your ecommerce website is like a leaky vessel.
There are already conversion rate optimization (CRO) professionals and agencies that help to create the best converting strategies and tactics. In ecommerce, their main goal is to find ways to make your existing clients buy and spend more.
For this purpose, CRO experts are constantly searching for new insights and best practices, and have a good understanding of statistics and qualitative research, marketing and UX design, heuristic frameworks, psychology and neurobiology.
But even if you don't hire a dedicated CRO professional or agency, you can bring some CRO initiatives to life with the help of an observant mind and continuous tests.
The ecommerce benchmark for CR is somewhere around 2%. Compared to 2019, the average is going up and was at 1.85% this September.
Higher-priced categories like consumer electronics, automotive, or furniture have lower conversion rates. The main reason for such discrepancies lies in consumer behavior specifics: people still prefer to go to brick-and-mortar stores for some product categories.
Here are the latest CR benchmarks by the industry as of October 2020:
Arts and crafts: 3.49%
Baby and child: 1.06%
Cars and motorcycling: 1.26%
Electrical and commercial equipment: 2.21%
Fashion clothing and accessories: 1.61%
Food and drink: 1.95%
Health and wellbeing: 3.54%
Home accessories and giftware: 1.80%
Kitchen and home appliances: 2.62%
Pet care: 2.96%
Sports and recreation: 1.49%
Before you start tracking the conversion rate in Google Analytics, you'll have to set goals to tell the system which types of user behavior are essential for your business. In other words, you'll have to jot down a list of micro and macro conversions and integrate them into your analytics.
The setup is quite easy, and there are even ready-to-use templates for some industries and a special conversions report for ecommerce. The latter is composed of transaction and item data and has several standard sub-reports:
Overview with a summary of the key metrics
Product Performance per product or category
Sales Performance with revenues by date
Transactions with revenues, shipping, and quantity
Time to purchase with shopping session analytics
To find the reports, go to the Conversions tab of the main menu and choose Goals or E-commerce. Ecommerce analytics require some additional setup, but are still easy to do.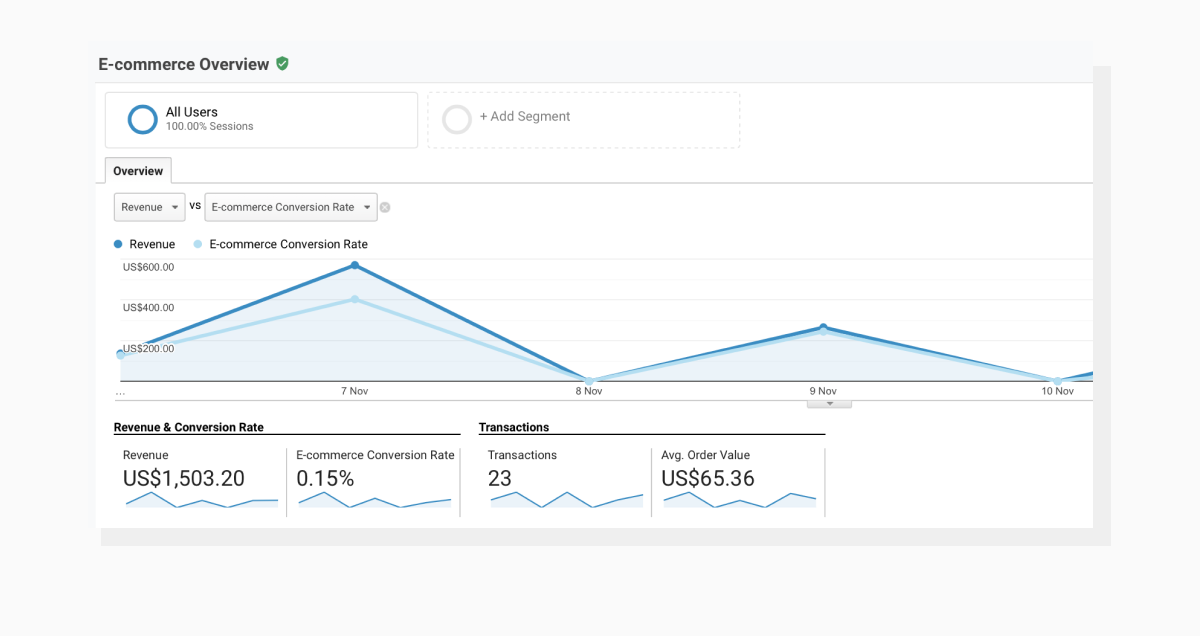 The conversion rate is 0.15%. Looks like this business needs some drastic CRO.
Conversion optimization is an evergreen topic. Just Google it, and you'll find lots of best practices and endless lists of tips. Good news: we've analyzed all of them for you and squeezed them into three main categories. Here they are:
The main reason people come to your store is the product and the value it brings. That's why you have to make sure that your offer is a blast in terms of price, quality, and service.
For this purpose, do market analysis on a regular basis. Watch your competitors, collect feedback from your customers, look for technological and UX trends, and change for the better.
Here are some questions you might ask yourself in the process:
Are the prices compelling and offers relevant?
Is the shipping and refund policy competitive?
Is there enough info about product availability and sizes?
Are there enough product reviews and social proof elements?
Do the product images look sexy?
In our opinion, the most impactful improvements that affect the CR are related to product attributes and the overall shopping service you provide. Tweaking your website UI and UX can be helpful, but the impact on the CR will be minimal compared to introducing additional perks like free shipping. Though costly, the latter has become the industry standard, thanks to Amazon. By not tracking such emerging trends, you'll be significantly lagging behind.
This part is mainly about analyzing the customer's journey on the website, identifying the bottlenecks, and eliminating them. For example, one of the highest barriers for any first-time shopper is money loss due to fraud. You can tackle it by:
Showing safety seals to prove that your website is secure;
Posting credible reviews and rankings by 3rd parties;
Offering discounts and vouchers for the first purchase.
To create a list of hypotheses regarding possible barriers, answer these questions:
Is it quick and easy to navigate to product pages?
Do the pages load fast enough?
Is the checkout process quick and smooth?
Is your platform mobile-friendly?
Are the payments secure, and is it clear that they are?
Some of the improvements driven by these questions can help you increase the conversion rate right away. For example, if you find that most people bounce from your mobile version, enhancing its usability can boost the CR dramatically.
Another low-hanging fruit is website speed optimization. According to a study conducted by Portent, the first 5 seconds of page load time have a major impact on conversion rates: to convert better, you need to achieve 0-4 seconds average page load time.
Boosting a website's speed is quite a challenge and can consume lots of time and effort, if done manually. You'll have to optimize visual content and avoid bulky scripts to make your service lightweight and fast.
That can seem like a nightmare for a media-heavy ecommerce platform with thousands of pics and product videos. But there are already no-code services out there like Uploadcare that can automate the image optimization routine. Ready-to-integrate, they slash your traffic and bandwidth usage right away, increasing page load speed and CR.
The farther you go, the thicker the trees: every hypothesis checked will lead you to a number of new ones, so you're facing a continuous process. To manage it, you'll need an absolute commitment and some resources. So, before you start any CRO initiative, answer these questions:
Do I have time and/or people to go down this road?
Can I afford to invest in experiments or outsourced CRO?
Do I have enough data to analyze and draw conclusions from?
Does the cost of CRO look okay in my unit economics?
If the answer to any of these questions is "no," think twice. Maybe CRO isn't exactly what you need at the present moment.
Ecommerce conversion rate is a metric that shows how many people make a transaction on your platform. CR is a great indicator of the overall performance of your store and is directly linked to revenue. That's why a conversion rate optimization (CRO) strategy should be put in place or at least considered in line with other strategies aimed at boosting your commercial success.
← Part 3. The number of active customers | Part 5. Technology costs →