The guide to eCommerce metrics. Part 3. The number of active customers
Written by Yulia Nazarenko. Updated on . First published on November 6, 2020, in Other
👉 The guide to eCommerce metrics. Intro
👉 Part 1. The total number of visits
👉 Part 2. Pages viewed per shopping session
👉 Part 3. The number of active customers (you're here)
👉 Part 4. eCommerce conversion rate
In our previous posts, we explored such metrics as the total number of visits and pages viewed per shopping session. They're crucial for evaluating marketing efforts and the stickiness of a website or app.
However, those aren't the type of metrics stakeholders or investors will ask you about at the end of the day. And we're not talking about money. Even revenues take the back seat compared to any business's main asset: active customers.
As always, you can download our recent report and skip the rest if you don't feel like reading.
It's derived from the number of active users, which is more generic and is used by all digital businesses regardless of the industry.
Active users are the unique visitors who interact with your website or app within a certain period of time
Every business specifies this interaction and its time frame in line with its goals. For example,
if it's a social network with an ad-based monetization model, engaged users are what they actually sell. Therefore, an active user in this case can be defined by a set of interactions like logging in, posting, commenting, browsing and "liking" within a day, a week, or a month. If you've ever seen The Social Dilemma on Netflix, these micro-actions were exactly what Facebook was struggling for to re-conquer the boy's attention.
When it comes to ecommerce, the goal is to sell as much as possible. That's why an active user is usually defined as a unique visitor who has made a purchase at least once in a certain period of time.
The time window can be a year, a week, or a month, depending on the type of product you sell: more frequent for daily-needs goods, less frequent for apparel. Since the target interaction performed in an online store is a purchase, the active users are usually called customers.
In ecommerce, active customers are the ones who make a transaction at least once within a specific time frame.
If you're pursuing some other goals, you're free to change or further specify this definition. For example, when growing revenue from particular channels, you can define your active customers as the ones who navigate to your store from those channels and make a transaction at least once within a specific time frame.
There is no such question for online media, free mobile apps, or social networks. Their commercial success directly depends on the size of the audience they can provide to advertisers. That's why they measure DAU, WAU, and MAU (daily, weekly, and monthly active users) in real-time to keep an ear to the ground.
The same goes for SaaS services on subscription models. If users are active during the trial period, they're more likely to convert into paying customers. Suppose, furthermore, that customers are active throughout their subscription period. In that case, they're more likely to stick around and contribute to CLTV (customer lifetime value), which is the amount of profit a business can potentially get from each customer.
As for ecommerce, measuring the number of active customers is crucial to understanding whether your business is sustainable or not. If the number of active customers is going down, you'll have to invest more into acquisition to meet your revenue targets. This will lead to a bloated customer acquisition cost (CAC) and a lower CLTV. It's logical: paying more for customers than they'll bring you in the future is a road to nowhere.
There's only a generic report in the Audience tab, which plots active users in real time. Don't get confused: "active users" here are not people who have made transactions, but people who came to your website over the given date range.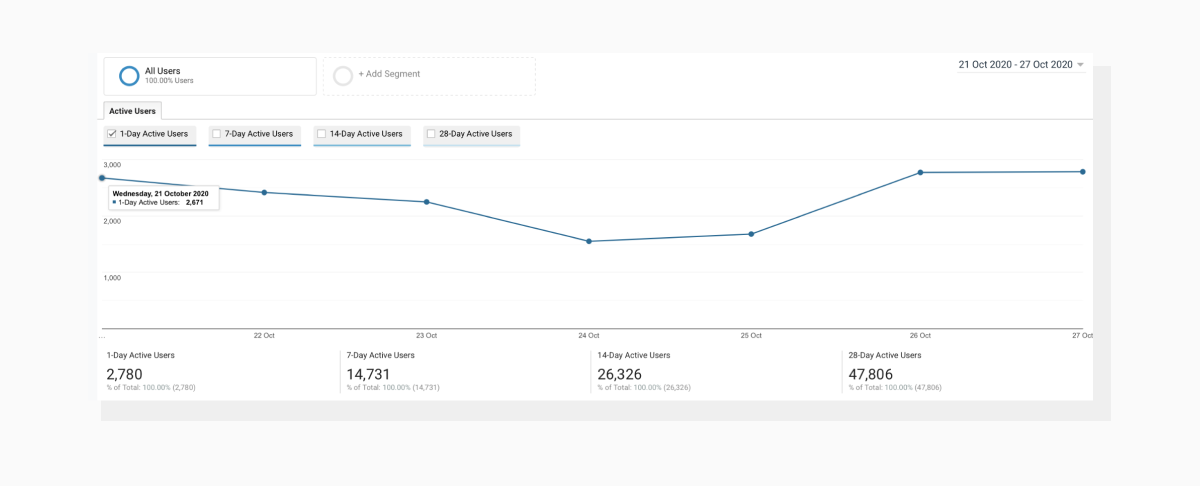 According to this report, there were 2,671 users who came to the website on October 20th and stayed active on that day.
You can't use this report for calculating CAC, Customer Churn or CLTV, but it works fine for evaluating the success of a marketing campaign. For this purpose, compare the number of active users on day 1 with the number on day 7, 14 or 28. If there are fewer and fewer active users in the long run, it means that the quality of traffic or traffic channel leaves much to be desired, or the offer you made is not appealing enough.
If you still want to visualize the number of active customers, use BI tools for custom reports like Tableau or Chartio, or make your own spreadsheets by collecting data from Google Analytics, CRM, or ecommerce platforms like Shopify.
By the way, Shopify offers a wide range of ready-to-use customer reports like customers over time, first-time vs. returning customers, returning customers, one-time customers, loyal customers, and even "at-risk" customers.
Have you ever wondered why Amazon is so incredibly successful? This ecommerce giant reports over 300 million active customer accounts around the globe and 150 million paying Amazon Prime members.
The company is especially proud of growing its base of Prime members who spend around $1,300 per year — this is nearly twice as much as the non-Prime customers. So, what do customers love about Amazon so much that they are ready to pay extra for a subscription? Among the top reasons are fast and free shipping, Prime membership, a broad selection of goods, the best pricing, and the best digital shopping experience: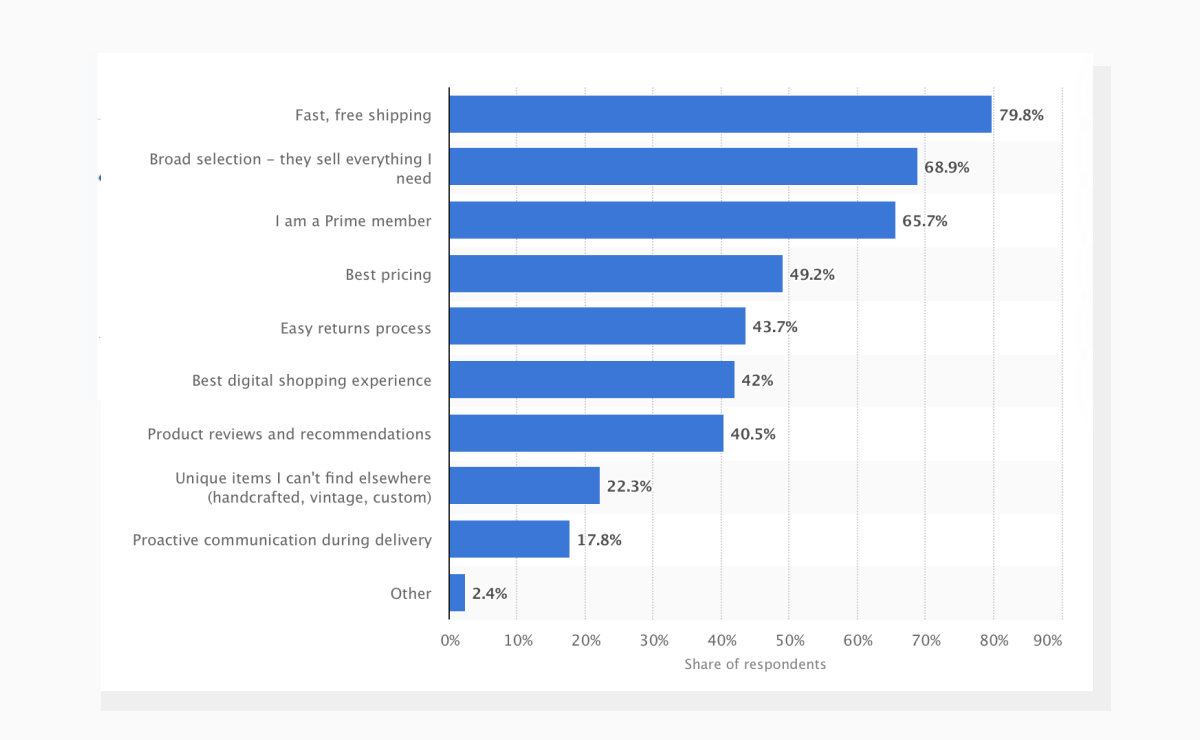 Reasons for US internet users to shop on Amazon, as of January 2020
What does this graph show us? Here are three insights we've gathered.
Fast and free shipping and easy returns are among the top 5 reasons why people love Amazon. What's more, the recent growth of Prime memberships is attributed to the expansion of free one-day shipping.
That doesn't mean you have to copy their business model and invest tons of money into shipping. But it shows the motivation behind the customer's choice: the faster they get what they want, the happier they are.
The best digital shopping experience contributes to this idea too. Your website or app is the starting point of the customer's journey, which ends with a box being delivered, so it has to be smooth, fast and easy at all stages.
Automating your customer service is an additional way to make the entire customer journey seamless. As a matter of fact, 90% of Americans use customer service as the primary factor in deciding whether to buy products from a company.
Some of the most common customer service automation strategies include creating a knowledge base, installing a chatbox, and automating a general service workflow. However, automation comes with its set of opportunities and limitations, where you can increase productivity, reduce costs, get holistic visibility, and require added resources to leverage the same.
Streamlining your business operations can be an expensive and long-term initiative, but web performance optimization is the low-hanging fruit. For example, it's possible to speed up your website quickly and easily by integrating a smart image CDN like Uploadcare.
Apart from providing a fast and smooth customer experience regardless of traffic spikes, such a service automates the image optimization process. So you kill two birds with one stone: accelerate content delivery and save time on important things like improving operations and customer care.
There are three main reasons to bank on retention and repeat purchases rather than new customer acquisition:
Acquiring new customers gets more and more expensive due to competition and the limits of the market.
Loyal customers have better add-to-cart and conversion rates and generate more revenue per session.
The more sales you get, the more difficult it is to grow.
To keep your customer base active, one of the best solutions (as proven by Amazon) is launching a loyalty program. It's a great tool for both retention and upselling. By offering people special perks or letting them earn and redeem, you make your store more attractive to visit and revisit.
Here are some more marketing activities that help to reengage or reactivate your customers:
Retention and retargeting campaigns via email and on social media
Private groups or chats with early announcements and insider news
Channels to gather feedback and reviews
Personalized communications and recommendations
Challenges or contests to invite user-generated content
Frequent shopper rewards, such as special vouchers or discounts
Exclusive giveaways for customers only
However, make sure to align your marketing efforts to the external environments. For example, when sending an email marketing campaign, ensure email deliverability is improved by authenticating your email domain.
Also, you should pay attention to the email subject lines, which have a direct impact on email deliverability.
Though it's not at the top of the list, the best pricing is still one of the reasons people love shopping on Amazon. You need to make sure your prices are competitive, especially when starting your business: there's no better way to compete with better-known brands.
But the price is not the only important factor. Every shopper who visits your store, whether consciously or unconsciously, asks four simple questions:
Is this product trustworthy?
Is it the best price I can get?
What do other people say about it?
Can I get it as fast as possible?
By answering these questions every time and providing the value you promise, you're likely to grow your active customer base and earn even more customers organically, thanks to their recommendations.
The number of active customers is one of the metrics that show whether your business is sustainable or not. Derived from the active users metric, it shows the number of customers who make a transaction within a given period of time, contributing to customer lifetime value and generating revenues. To grow the number of active customers, invest in retention rather than acquisition, pay attention to the operational side of the business, and do as much as you can to improve the quality-price ratio.
← Part 2. Pages viewed per shopping session | Part 4. Ecommerce conversion rate →