The guide to eCommerce metrics. Part 5. Technology costs
Written by Yulia Nazarenko. Updated on . First published on November 26, 2020, in Other
👉 The guide to eCommerce metrics. Intro
👉 Part 1. The total number of visits
👉 Part 2. Pages viewed per shopping session
👉 Part 3. The number of active customers
👉 Part 4. eCommerce conversion rate
👉 Part 5. Technology costs (you're here)
In our previous articles, we mapped out acquisition and engagement metrics and shared some tips on generating revenues. But in order to keep good profit margins, it's crucial to take care of costs too. That's why in the last part of our guide we'll dive into those numbers and show you a few ways to manage them.
We will mainly focus on technology costs, as there are some simple optimizations you can do to minimize them. Again, if you don't feel like reading a wall of text, download our concise report and skip the rest.
Technology costs are a part of the overall ecommerce budget, related to the development, implementation, deployment, and maintenance of your online shop's IT infrastructure. Usually, they belong to the larger category of operating costs, together with such expenses as payroll, marketing, insurance, and taxes.
To visualize the cost structure of an ecommerce business, grab this free ecommerce profit and loss template by Flippa. It's quite generic, but you can further group certain types of expenses and tweak it to create your own version.
For example, ASOS splits its operating expenses into administrative and distribution costs. Distribution costs include technology, shipping, and logistics expenses, while administrative costs consist of warehousing, marketing, and inventory.

ASOS operational expenses split as of August 2020
Distribution costs make up 13.6% of ASOS sales and form one of the most significant parts of the company's operating costs.
By deducting operating costs from the gross profit, you get the operating profit and profit before tax, the figures most business owners make their toasts to: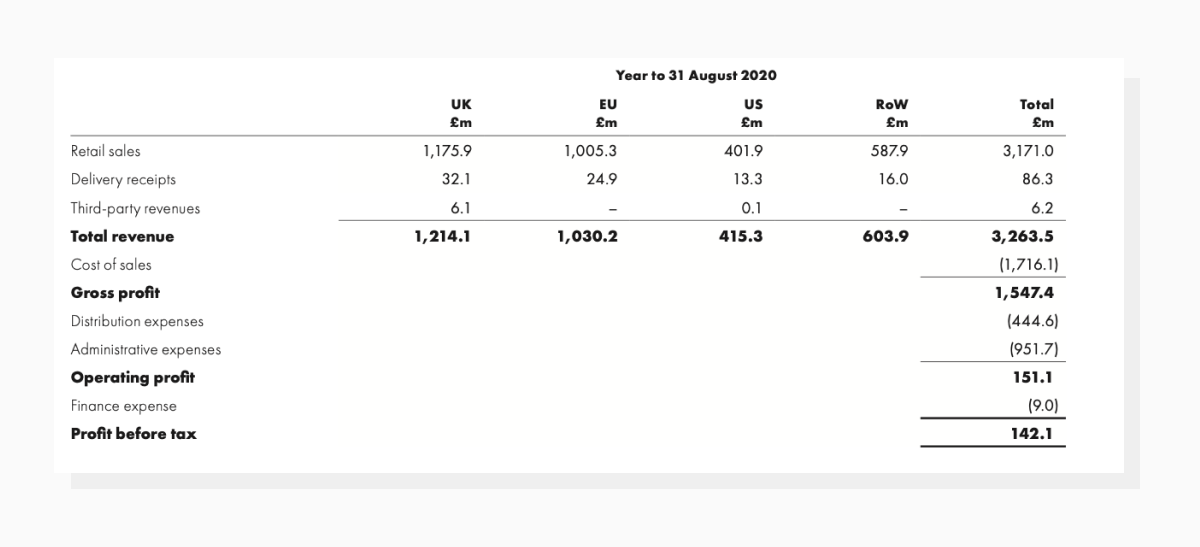 ASOS profit and loss statement as of August 2020
In its profit and loss statement, ASOS shows the structure of its revenues and costs.
As you can see, distribution and administrative expenses eat up to 90% of ASOS's gross profit. That's why leveraging these costs is the number one priority even for such ecommerce biggies.
Next, we'll focus on technology expenses as a part of operational costs and see how to optimize them.
Technology costs can be ongoing or project-based. For example, if you're launching an ecommerce platform from scratch, media content production for product pages will go to project expenses.
Hosting, data backups and subscriptions, meanwhile, are considered ongoing expenses, and can recur on a monthly or yearly basis: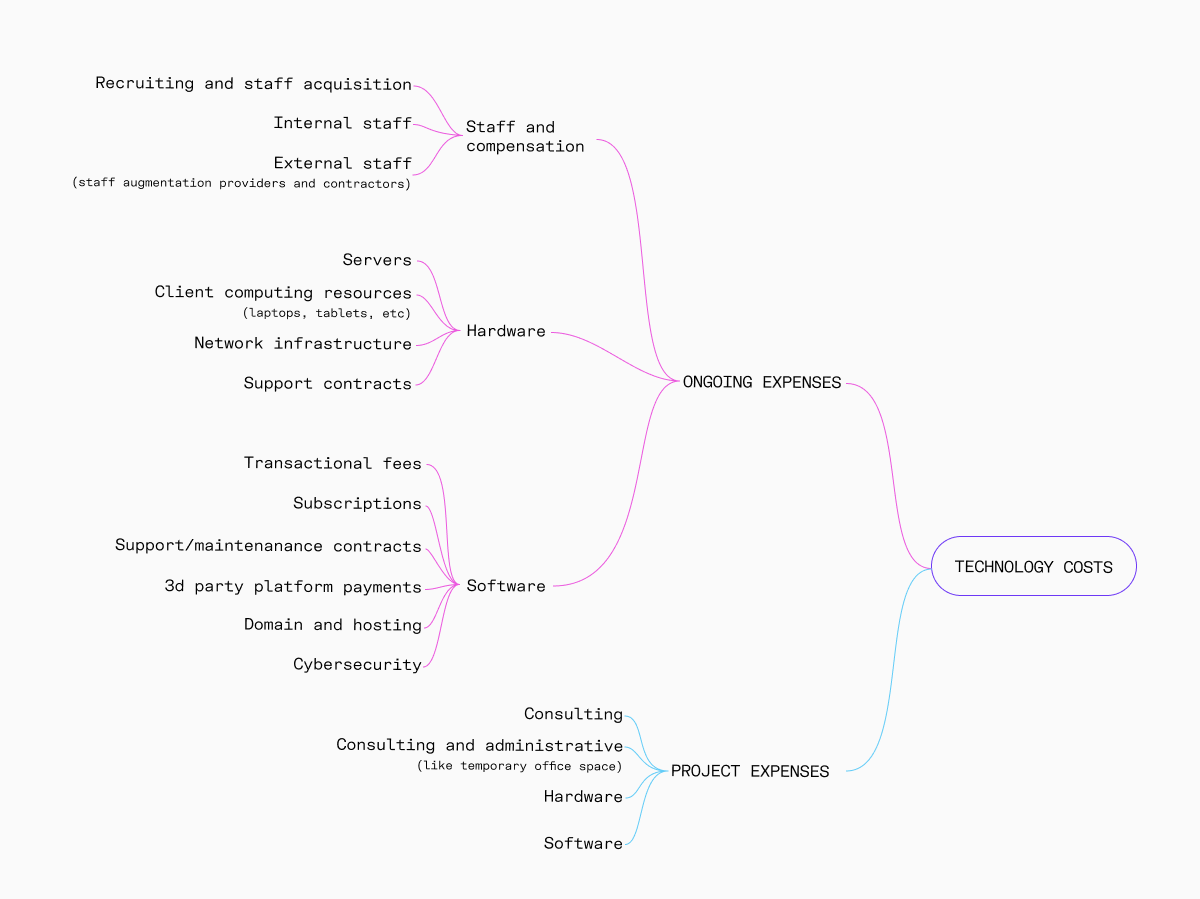 Cost structure mind map
This extended technology cost structure can be adapted to any online shop.
If you're just starting up, the total amount of technology costs will depend on the IT infrastructure you choose. Here are some options to consider, from the least to the most expensive:
Listing your products on a marketplace like eBay or Amazon
Using a hosted ecommerce SaaS solution like Wix, BigCommerce, Shogun or Shopify
Building your website on WordPress and using plugins like WooCommerce
Using on-premise ecommerce software, including open source
If you choose the last option, get ready for high development and maintenance costs along with full responsibility for the security and stability of your platform. It will require large upfront investments and even more recurring expenditures on maintenance, integrations and updates. On the other hand, you'll have complete control over the project.
In the case of hosted SaaS solutions, you can offload the infrastructure costs together with the burden of security and stability-related tasks. Going with such an option saves you money when starting up and makes you more agile, scalable, and able to focus on revenue-generating activities.
There's one more point to keep in mind. When building a platform from scratch, design and development investments should be assigned to your company's capital expenditures, or CapEx. When it comes to SaaS, their monthly fees can be written off as a recurrent operating expense, or OpEx.
These two expense categories have different taxation rules. Using the OpEx framework, you can earn a larger deduction on the amount accrued from the total number of monthly payments.
Cut — that's what most businesses usually plan to do with any of their costs. But on a hugely popular online shopping day, pinching pennies on your IT infrastructure is like biting the hand that feeds you.
According to the Wall Street Journal, ecommerce investments are seeing huge returns due to the pandemic and the consequent social distancing. In fact, 80% of businesses expect IT budgets to grow or stay steady throughout 2021. Here are the top 5 drivers of IT budget increases: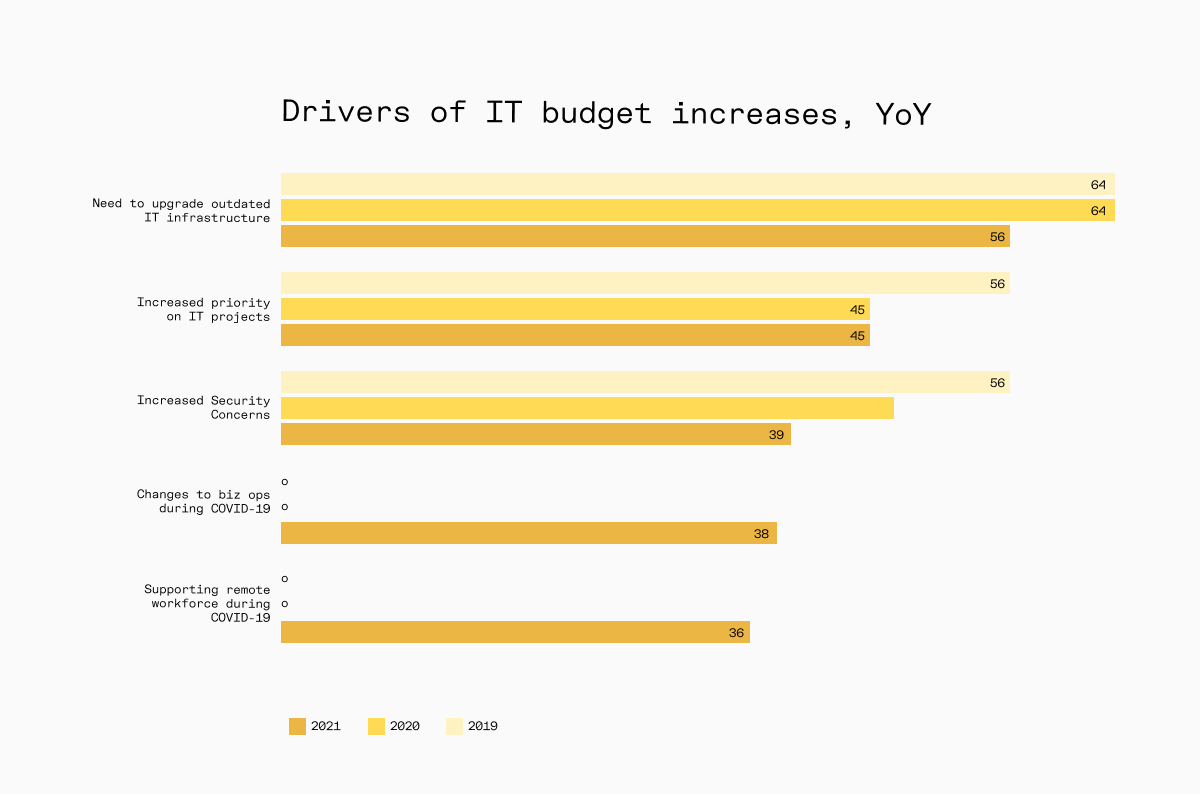 Top 5 drivers of IT budget increases YoY, State of IT report 2021 by Spiceworks Ziff Davis
The increase in IT budgets in 2021 is mainly attributed to changes in operations and remote workflow support during the pandemic.
Regarding the expected budget allocation, 35% of companies have already migrated their assets to the cloud or plan to accelerate such a migration.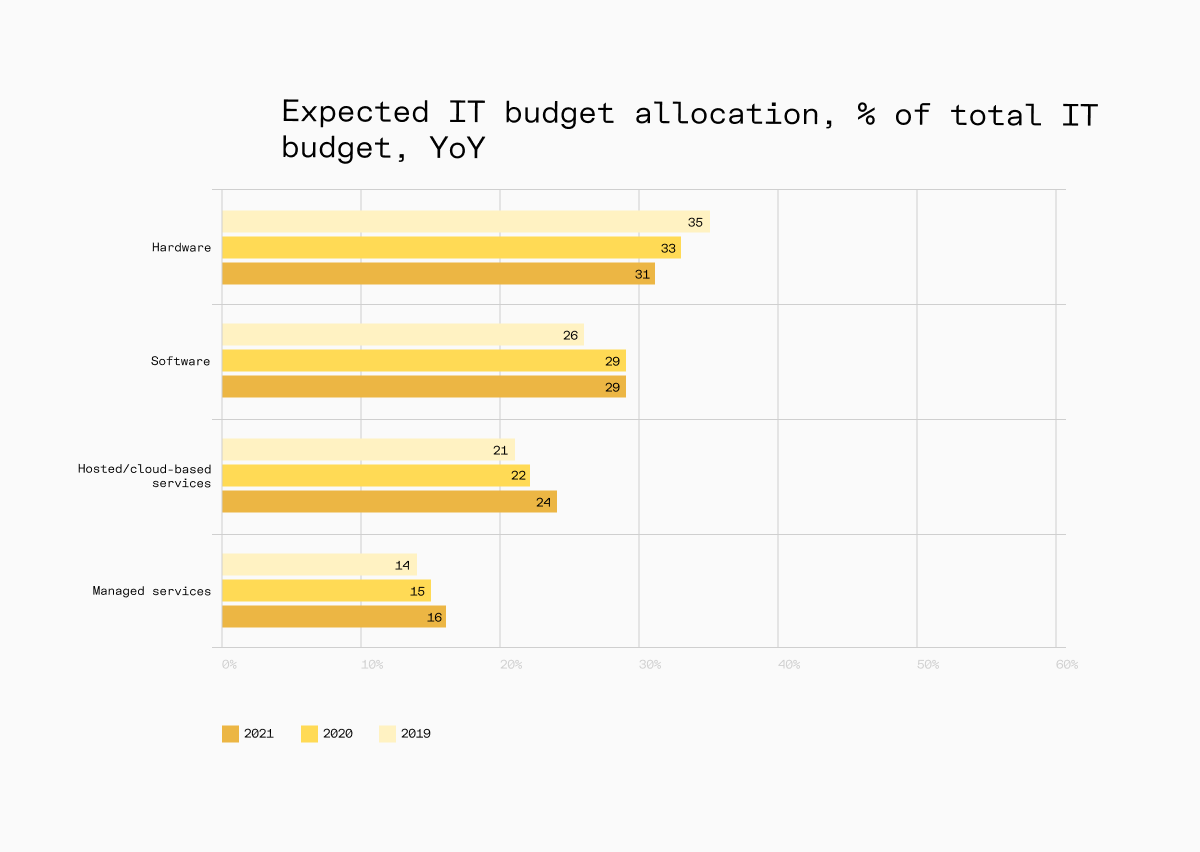 Expected IT budget allocation YoY, State of IT report 2021 by Spiceworks Ziff Davis
% of total IT budget. Hardware costs continue decreasing, while expenses on software, cloud-based and managed services continue to grow.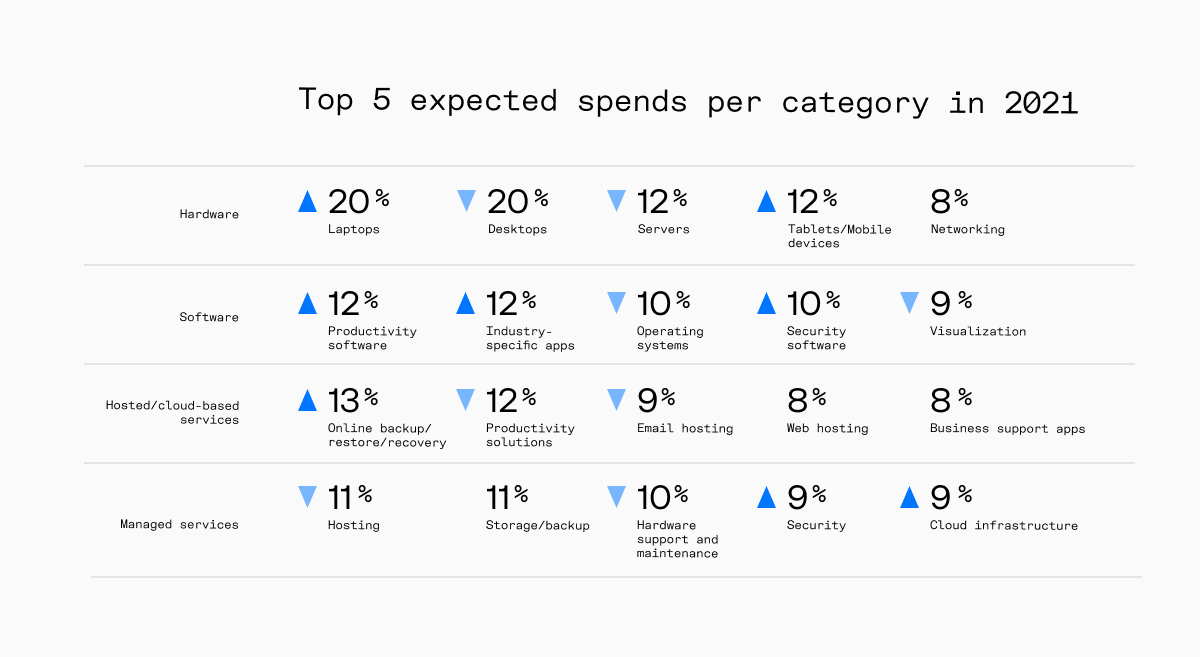 Top 5 expected spends per category in 2021
Companies are planning to invest more in remote infrastructures, productivity, and data security.
Considering the trends and figures, instead of cutting IT costs, we'd rather talk about optimizing and restructuring them. So here are some tips!
We've already mentioned the benefits of outsourcing IT infrastructure when starting up. But this "buy, don't build'' approach can be extended to a list of other workflows that involve maintenance or any other kind of attention and effort from your team.
The true savings of a SaaS system come from not having to handle your own IT infrastructure to manage hosting, data security, and hardware maintenance.

— Derek Singleton, Analyst, Software Advice
For example, any ecommerce platform has to deal with high volumes of media. Apart from massive uploads, optimization and delivery, this process includes data storage, backups and security-related tasks. If you delegate this job to an Image CDN like Uploadcare, you save priceless engineering time and spare your team from monkey jobs.
Your savings when streamlining media flows with an Image CDN:
Engineering time on building your own infrastructure from open source or from scratch
Engineering time on maintaining and updating the file-handling infrastructure
Engineering time on optimizing images for any screen and device
Server space for keeping media on-premises or cloud storage
Up to 92% of traffic saved through image optimization
Shogun boosted business productivity with Uploadcare CX Suite
According to BCG, 30% to 40% of a company's IT spend is directly related to internal staffing costs, and another 20% is related to external contractors. Though these figures mainly relate to enterprise companies, there's some food for thought for a business of any size.
People are the most expensive asset, regardless of whether you have one or 10,000 on board. But even if it seems reasonable to shrink the headcount in your darkest hour, think twice: the cost of recruiting and onboarding a new hire in the future can be astonishing.
Despite the fact that companies will outsource more throughout 2021, the demand for quality IT talent will continue to rise. The competition is endless, launching the cost of hiring into the stratosphere. It's no surprise that the employee turnover rate in tech is the highest. The figure hovers at 13.2%, but can be as high as 21.7% for embedded software engineers. By the way, the second place in turnover belongs to retail and consumer products industries.
So, the best practice here is not to lay off employees, but:
Reconsider sourcing options and internal vs. external staff split.
Automate secondary tasks (see Tip #1) and improve productivity using Agile project management concepts.
Decentralize and shift to places with greater talent availability.
Try to reduce turnover by creating a strong culture and offering competitive perks — this will pay off in the future.
Learn how Zephyr built a blazing-fast CMS
Just like employee turnover, reducing customer churn is one of the biggest challenges for any business. That's why you shouldn't hesitate to ask your providers for discounts or flexibility in making payment. They value you as a client and will do their best to serve you. Sometimes you don't even have to ask: just take part in special seasonal promotions or incentive programs.
On top of that, you can also reduce the cost of the services by trimming them down to the bare minimum. There's always some room for savings on things like cloud storage (do you really need so much?) or the number of emails sent via direct marketing platforms.
Technology costs are a part of ecommerce operating expenses and should be carefully accounted for in order to get good profit margins. The amount of technology costs greatly depends on your IT infrastructure, but regardless of whether you have a platform built from scratch or a hosted solution, there's always room to optimize and restructure. You can start with our three tips, which are: buy, don't build; take care of your team; and negotiate with your providers.